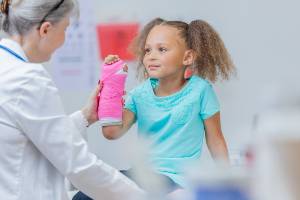 If your child has been seriously injured in an accident due to another's negligence, you may have the right to take legal action to seek compensation for your child's medical care and pain and suffering.
While pursuing a financial recovery is possible, it is important to know that personal injury cases for minors are handled differently than cases for injuries to adults. Our personal injury attorneys in West Palm Beach discuss what it takes to file a lawsuit for a child injury and the compensation that you may be available to recover.
Contact us anytime, day or night, to schedule a free consultation and learn if you may have a viable case. There is no obligation and no upfront fees to retain our services. We only get paid if you get paid.
Types of Negligence That Can Cause Children to Get Injured
There are many ways a child may get injured. Oftentimes, a child gets injured because of someone's actions or inaction. Some common causes of serious child injuries include, but are not limited to:
Motor vehicle accidents
Bicycle accidents
Dog bites or animal attacks
Playground accidents
Swimming pool accidents
Premises liability accidents
Defective toys or products
What Should I Do If My Child Gets Injured?
After an accident, it is important that your child gets immediate medical care for his or her injury. Certain injuries, such as a concussion, may go unrecognized for hours or days. If left untreated, concussions can cause serious medical problems that may require extensive and costly medical treatment. Concussions can be particularly dangerous for children, as their brains are still developing.
Once medical care is sought, try to gather as much evidence about the accident and your child's injuries as possible. Examples include pictures of the accident scene, surveillance footage, witness statements and a copy of the police/accident report. This evidence could help support your claim for compensation.
It is also in your best interest to consult an experienced attorney who can review your situation and discuss your legal options. If you have a case, he or she can determine the party or parties at fault for your child's injuries and work with you to get you the compensation you and your family need.
Filing a Personal Injury Lawsuit on Behalf of Your Child
Generally, only the person or adult who suffered a personal injury can file a lawsuit in Florida, but there are certain exceptions to this rule, such as when the victim is a minor.
A child's parents or legal guardians may be able to file a personal injury lawsuit on the child's behalf. The injured child, however, cannot legally file a lawsuit on his or her own before reaching the age of 18.
Depending on the child's circumstances, the child could wait to take legal action when he or she comes of age, but it is not recommended. There is only so much time to file a lawsuit and seek compensation.
The statute of limitations for most personal injury cases in Florida is four years from the date of the accident. This deadline may be extended or shortened when minor children are involved.
It is best to have a lawyer on your side before making important legal decisions. Filing a lawsuit takes a lot of preparation and time. The longer you wait to find an attorney, the greater the risk of losing evidence and not being able to build a strong case for compensation.
What Compensation Can I Recover for My Child's Injuries?
You may be able to recover financial compensation from the negligent party or parties that caused your child harm in the accident. The amount potentially awarded will depend on a case-by-case basis.
Damages in a personal injury lawsuit generally consist of both economic and noneconomic damages. Economic damages are monetary losses or costs directly related to your child's injury, such as hospital bills and physical therapy. Noneconomic damages are intangible losses such as the pain and suffering your child has experienced since the accident.
The compensation you may be able to recover for your child's injury may include:
Medical expenses
Long-term care
Rehabilitation
Mental and emotional anguish
Any wages you lost from missing work to care for your child
And more
If your child's injury is permanent, loss of a normal childhood and diminished quality of life may also be recoverable in a personal injury lawsuit. The burden of proof is on you to prove that your child's injuries in the accident were caused by a negligent party whose duty it was to protect your child.
Contact Our Firm for Answers to Your Legal Questions
The most difficult thing a parent can endure is seeing their child hurt. However, knowing that your child's injuries were due to another's negligence only makes it that much harder.
At Gordon & Partners, we are here to help. Our firm has protected the rights of many injury victims and their loved ones since 1993. We are ready to fight for the maximum compensation possible.
The initial consultation we offer is free of charge, so there is no risk to you. This meeting also comes with no obligation to hire us, but if you do, we charge zero upfront fees. We only get paid at the end of the legal process if we help you recover compensation through a settlement or verdict.
Call 1 (855) 722-2552 to get started today.