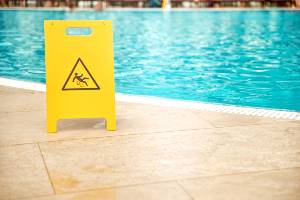 Summer brings plenty of sunshine and recreational activities. However, this time of the year also increases the risk of outdoor slip and falls. To stay safe in the summer, it is important to be aware of the most common slip and fall hazards. This includes knowing what to do if involved in a slip and fall.
If you have been injured in a slip and fall, our licensed slip and fall lawyers in West Palm Beach are prepared to review your situation and discuss your available legal options during a free consultation.
There are no upfront fees to get started and no fees unless we successfully help you obtain a recovery.
Common Slip and Fall Hazards in the Summer
In South Florida, summer often brings a lot of rain. Sudden heavy rain can lead to slippery conditions, making it dangerous to walk on pavement, sidewalks and other surfaces. Any cracks in the sidewalk can be made worse by the rain. They can also be harder to see after rainfall, increasing the risk of tripping while walking. People running for cover from unexpected rainfall can slip and fall, seriously injuring themselves.
Many recreational activities in the summer involve water and wet surfaces, such as swimming and boating. People can track water with their wet feet, creating a slippery surface on decks or walkways.
Pools can also create slippery conditions when there is a lot of water on the ground. Puddles and wet poolside tiles can pose a serious slip and fall risk. Pool bathrooms and dressing rooms can have wet floors from people using the facilities. Diving boards and pool slides can be slippery areas for accidents.
Slips and falls can also happen when food, drinks, ice or ice cream are dropped on the floor and not cleaned up right away. Wearing flip-flops and sandals is more common during the summer but provides less grip and protection than other types of footwear, which can increase the risk of slipping on a wet floor.
Even people watering their lawns or washing their cars in the driveway can create slippery surfaces that can pose a danger to others walking or passing on or near the property. Additionally, summer toys, sporting equipment, and gardening tools if left on the floor and unattended can be a tripping hazard.
Filing a Legal Claim for a Slip and Fall Injury
Not every slip and fall may lead to a legal claim. You must prove a property owner's negligence caused or contributed to your slip and fall. For example, you may have a legal claim if a spill or lack of maintenance resulted in unsafe conditions.
Our lawyers understand the elements that must be present to have a successful claim. We are well-versed in premises liability laws and how they may affect your situation.
Premises Liability
Premises liability is a legal concept that applies to personal injury cases when an injury is caused by an unsafe or dangerous condition on someone's property. In a premises liability case, such as a slip and fall case, you must prove that the property owner was negligent – he or she failed to use reasonable care to protect people on property.
However, getting injured on someone's property does not prove negligence. Even if the property was in an unsafe condition, the property owner may not have been negligent. You will need to show that the property owner knew or should have known about a potential danger on the premises but still did not take the necessary steps to fix the issue.
It is important to take pictures of the area where you slipped and fell. Perhaps there was a large puddle on the ground near a pool area without any signage or a spill in a walkway that was not cleaned up. Pictures of your injuries and surveillance footage from the property could be used as evidence.
Responsibilities of Property Owners
Under Florida law, property owners have a duty of care to keep their property safe for people to enter. Failing to clear hazards from a property or not putting up signs warning of dangers on the premises are examples of when an owner's actions or inactions could make him or her liable for a slip and fall.
Statute of Limitations
The statute of limitations is the amount of time you have following an accident to take legal action against a negligent party. In Florida, the statute of limitations for a slip and fall is four years. While four years seems like a lot of time to file a legal claim, it takes time to investigate and gather evidence. If you wait too long to file, the court may dismiss your case and you will be unable to recover compensation.
How to Avoid Summer Slip and Fall Hazards
Slips and falls can happen anywhere at any given time. Knowing how to avoid summer slip and fall hazards could help you stay safe from the many injuries these accidents cause.
Be aware of your surroundings – No matter what you do for fun in the summer, it is important to get to know your surroundings. If you hit the pool, be careful as pool tiles can become quite slippery when wet. Swim platforms on the back of boats can also create unsafe conditions. Be sure to pay attention to warning signs to avoid puddles and slippery surfaces.
Wear the right footwear – Flip-flops and sandals may be convenient and comfortable, but they can make you more likely to slip and fall. Depending on where you are headed, use footwear with soles that can grip the floor or ground. Flips-flops should be reserved for the beach or pool.
Walk slowly in wet areas – Take smaller steps around wet areas to avoid a slip and fall. Running on a slick or slippery surface can cause you to fall backward and seriously injure your back or head. It is important to be careful around any body of water.
Injured in a Slip and Fall? We Are Here to Help
If you have been injured in a slip and fall, you may be able to recover compensation to help cover medical bills, lost income from missing work and other related expenses in a legal claim.
Our lawyers at Gordon & Partners are committed to protecting the rights of injured victims and are ready to guide you throughout the entire legal process. Learn more about how we may be able to help by scheduling a risk-free, zero-obligation consultation. Our intake staff is ready to take your call.
Call 1 (855) 722-2552 for Trusted Legal Help.