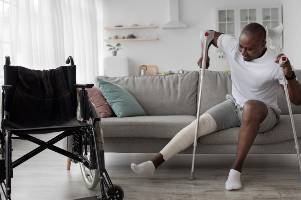 A personal injury can affect you physically, emotionally and financially. Depending on the severity of the injury, you may have to see a specialist, undergo multiple surgeries, attend physical therapy, make in-home accommodations, or hire a caregiver. A personal injury can also affect your ability to work.
If you have suffered a personal injury caused by another's negligence that has kept you from working and earning an income, we recommend reaching out to an experienced lawyer. He or she can advise you about your potential legal options based on your situation and help you obtain fair compensation. You may be able to pursue damages not just for your medical bills, but also for lost wages and benefits.
An initial consultation with one of our licensed West Palm Beach personal injury lawyers is free of charge and comes with no obligation to hire our firm. We only get paid if we help you obtain a recovery.
Ways a Personal Injury Can Keep You from Working
Accidents can happen anywhere. Even personal injuries that seem minor can have major, long-term impacts on a victim's life. A personal injury following an accident can prevent you from working.
The longer you are unable to work while in recovery, the more income and possible work opportunities you may lose. If you become partially disabled from your injury, you may not be able to work again in your previous job. If you are severely and permanently injured, you may be unable to work at all.
Your Injuries Could Limit your Physical Abilities
A personal injury can limit a victim's mobility and strength, making it hard for him or her to walk, sit, stand, bend, lift or carry items in the workplace. This can happen if you suffer a spinal cord injury.
Even simple tasks, such as getting dressed and driving a car and carrying groceries can be difficult or even impossible to do. Repetitive activities, such as typing on a keyboard or using a computer mouse may be challenging if your injury causes debilitating, chronic pain.
Aside from physical impairments, a personal injury can also cause cognitive impairments. For instance, a brain injury can impact your memory and ability to think, speak or comprehend things being said to you by a customer, coworker or supervisor. You may be unable to concentrate at work, communicate your thoughts and feelings or remember important information that is necessary for your job.
Many personal injuries can linger for many months or be masked by the pain after an accident. A severe personal injury can have both short-term and long-lasting effects on your physical and mental health.
Your Injuries Could Impact Your Mental Health
A personal injury can cause psychological impairments. Many victims who suffer injuries after an accident may also struggle with depression, anxiety and other mental health issues. Depression can aggravate the physical pain you are experiencing, which can make treatment more complicated.
You may even have anxiety about getting injured again in an accident, which may be preventing you from performing your day-to-day tasks or engaging in activities you once enjoyed. Serious personal injuries may cause emotional and psychological distress to you and your family.
Some injuries can leave you with mental scars, no matter how healed and recovered they may appear. These scars can have a significant toll on your relationship with loved ones, co-workers and employers.
Damages You May Be Able to Pursue in a Claim
You may be able to file a personal injury claim for damages you sustained due to another's negligence, including actual and estimated costs. Damages you could recover in a claim include:
Current and future medical expenses and rehabilitation costs to treat your injury
Lost wages for missing work for weeks or months while recovering from your injury
Loss of earning capacity if your injury prevents you from earning a living in the future
Lost employee benefits if you had to take a leave of absence or had to switch from full-time to part-time employment, which reduced your insurance benefits
Current and ongoing pain, suffering and mental anguish caused by your injuries
Loss of consortium or loss of companionship which is awarded to your spouse due to your injury
For catastrophic injuries, the damages awarded may be much higher. This is why it is important to work with a lawyer who can accurately assess your damages and how much you should pursue in damages.
Calculating the Value of Your Injury Claim
The value of a personal injury claim varies on an individual basis. Preparation and documentation are vital if you want to receive fair and just compensation. Some factors that may be taken into consideration when calculating damages for a personal injury include, but are not limited to:
The opinions and findings offered by medical experts
The nature and extent of the injuries you suffered in the accident
The amount of time it took to reach maximum medical improvement
Your estimated recovery time and whether you need ongoing care
Work limitations caused by your injury, such as being unable to work or missing an opportunity to earn money to support your family
Call Gordon & Partners for a Free Initial Consultation
If you have suffered a serious personal injury as a result of an accident, contact our lawyers at Gordon & Partners today. We are ready to seek the maximum compensation possible on your behalf. To date, we have secured millions of dollars for clients who have lost wages and benefits following an accident.
Contact our firm anytime, day or night, to schedule a free consultation. There is no risk or obligation involved. We work on a contingency fee basis, which means we do not get paid unless you get paid.
Proven Results. Millions Recovered. Ph: 1 (855) 722-2552