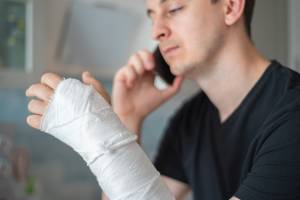 If you get seriously injured in an accident due to another's negligence, you may have grounds to take legal action to try and recover damages. However, in certain personal injury cases, you may not have to prove negligence to recover damages. The negligence per se doctrine may apply if it can be shown that the other party violated the law. Negligence and negligence per se mean different things in Florida.
Our knowledgeable West Palm Beach personal injury lawyers are here to answer any questions you may have about the concept of negligence or the legal process in general. We are well-versed in federal and state laws and how they may apply to your situation. Over the years, our firm has helped many injured victims seek the maximum compensation possible, recovering millions of dollars on our clients' behalf.
The initial consultation that we offer is free of charge so there is no risk to you. There is no obligation involved after meeting with us to retain our legal services, but if you do, we charge zero upfront fees.
Difference Between Negligence and Negligence Per Se
Although negligence and negligence per se may appear to be similar, there is a difference between both these terms in Florida courtrooms as it relates to personal injury cases.
Negligence
Negligence can occur with or without intent to cause harm to others. However, it is still a violation of the law. In other words, some guidelines, procedures and other responsibilities were not fulfilled.
Generally, the accident victim must prove that the other party's failure to use reasonable care resulted in his or her injuries. Reasonable care is what a reasonable person would use under the same or similar circumstances.
Examples of careless actions that may qualify as negligence, such as:
When a driver is texting or otherwise distracted and rear-ends another vehicle
When a person slips and falls on a wet surface because there was no sign warning of the hazard
When a manufacturer fails to take care during the design of a product, resulting in a defect
In many situations, negligence can be difficult to prove. You must show that a duty of care was owed to you, the other party breached his or her duty of care, and because of this breach, you were injured and suffered damages. However, negligence per se establishes negligence as a matter of law.
Negligence Per Se
Negligence per se is a legal doctrine that defines an act as negligent when it violates a law that has been designed to protect others from harm. Some statutes and ordinances that, if violated, may cause negligence per se include statutes/ordinances on speed limits, building codes and blood alcohol levels for drivers.
This doctrine essentially eliminates the need to prove "duty of care" and "breach of duty of care" to recover damages in a negligence case. You do not have to show how the other party's behavior was careless. If a law was violated, this violation alone would establish that the conduct was negligent.
What Are Some Instances of Negligence Per Se?
Negligence per se cases are often easier to validate than negligence cases. In a personal injury case, some instances of negligence per se may include:
When a driver is under the influence of drugs or alcohol and hits another vehicle – driving under the influence is not only illegal but the law was created to protect others sharing the road from harm
When a dog attacks or bites another person – negligence per se may apply if the dog bite happened because the dog owner violated a statute, such as a statute about keeping the dog on a leash
When a property owner violates one of the city's building codes, causing an occupant to become exposed and harmed by a hazard on the premises
An experienced lawyer can conduct a detailed accident investigation and gather the evidence needed to help build a strong negligence per se claim on your behalf.
How Do I Prove Negligence Per Se in an Injury Claim?
Proving negligence per se will require you and your attorney to establish the following:
The other party violated a law
The intent of that law was to protect people from harm
You suffered an injury the law was intended to protect
Your injury was caused by the other party's violation of the law
Reach Out to a Knowledgeable Attorney for Legal Help
Our attorneys at Gordon & Partners have experience since 1993 handling a wide variety of personal injury cases. In that time, we have recovered millions in compensation for our clients.
Reach out to schedule a free consultation today. There is no risk or legal obligation. We work on a contingency fee basis, which means there are no upfront fees. There are also no fees while we take or work on a case. Our firm only gets paid at the end of the legal process if we help you obtain a recovery.
Call 1 (855) 722-2552 for Trusted Legal Help.