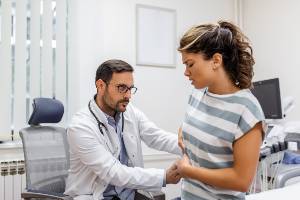 An injury victim's interactions with his or her doctor about his or her injuries are important. Failing to report the level of pain and limitations you are experiencing and how these limitations affect your ability to work will impact your doctor's opinion of your injury.
Medical records are critical in a personal injury case. The insurance company will not pay unless you can prove you were injured, and your injury is as severe as you are claiming. The things you tell your doctor will be noted in your medical records but the things you do not tell the doctor will be absent from your medical records.
Below, we discuss some of the common mistakes injury victims make when talking to their doctors about their injuries. Not being honest, withholding information or exaggerating your injuries will not help you receive the medical care you need. Nor will it help connect your injuries to the accident.
If you have questions about your rights after being injured due to another's negligent actions, contact us to set up a free consultation. An experienced personal injury lawyer in West Palm Beach is here to help.
Hiding One's Prior Medical History
Your doctor must be informed of your prior medical history to properly diagnose and treat your injuries. This information is also important if you are looking to file a claim for compensation.
Some injury victims may forget about a previous injury they sustained or think that the injury has nothing to do with the new injury and decide not to disclose it. However, hiding a pre-existing condition can adversely affect an injury claim and damage an injury victim's credibility.
That is why it is important to be honest and forthcoming with your doctor. For instance, if you sustained a pre-accident back injury, let the doctor know if you have since healed or are still experiencing symptoms. The accident may have changed or even aggravated your pre-existing condition.
If you provide your doctor with false or incomplete information, his or her medical opinion could be dismissed by an insurance company or a jury. When you make a claim, the insurance company will eventually have access to your medical records. They will learn about your overall health. If you attempt to hide your medical history, they will use it against you to devalue or deny your claim.
You do not want to do anything that makes you appear dishonest or casts doubt about the type and extent of injuries you suffered.
Failing to Disclose Inability to Work
The documentation provided in an injury victim's medical records can make or break a claim. An insurance company or a jury will not believe that your injury affects your ability to work just because you say it does. If your injury does prevent you from doing your job, be sure to disclose this information to your doctor. It is to your benefit to keep notes that you can give your doctor at your appointments.
The insurance company will likely not compensate you for the full amount of income you lost while treating and recovering from your injuries unless your doctor documents your medical inability to work.
Ignoring One's Pain and Limitations
It is important to discuss your injuries at length with your doctor. This includes your pain and limitations. Some injury victims may not want to seem like they are whining or complaining. However, your doctor needs to be aware of the extent of your issues to treat you. If you choose to ignore the pain and discomfort you are experiencing, your injuries could get significantly worse.
An insurance company or a jury may also not believe your pain and limitations if these issues are not documented in your medical record. When reviewing your records, they will look for the following:
How soon pain was reported after the injury
Where the pain was located and its severity
How long pain has lasted since the accident
While being treated for your injury, your doctor will likely ask about your level of pain on a scale from one to 10 (10 being the worst imaginable pain). This can seem difficult to answer since every injury victim's pain tolerance is different. It is important to be honest and not exaggerate. Doctors are trained to look for things that are not consistent and will likely know if you are lying about your pain.
If a prescribed treatment is not working, be sure to let your doctor know so that you are given the right treatment. Ignoring your issues and not talking about them with your doctor could harm your health, your recovery, and your claim. You do not want to do anything that jeopardizes you getting compensated.
Not Addressing Psychological Conditions
Pain and limitations can often cause depression and anxiety after an injury. These psychological conditions are just as valid as medical conditions you can see on an X-ray, such as a broken bone.
Unfortunately, many injury victims experiencing psychological conditions are unable to overcome them without adequate medical care and treatment. An insurance company or a jury will generally only compensate physiological conditions caused by an injury if these conditions are properly diagnosed, treated and well-documented by qualified medical professionals. That is why it is important to address any psychological conditions you have experienced since being injured to your doctor.
Strengthening a Claim for Compensation
Documentation is key for strengthening your claim for compensation. You want to make sure that your medical record contains a detailed account of the nature and extent of your injuries. Failing to disclose certain information will impact your doctor's opinion of your injury.
Other mistakes to avoid when seeking medical treatment include:
Waiting too long to visit the doctor
Missing follow-up doctor appointments
Failing to adhere to prescribed treatment
Stopping medical treatment altogether
It is also important to simply stick to discussing your injuries with your doctor. He or she just needs to know what happened and how you were hurt. This means avoiding talking about your case. Most doctors do not want to get involved in legal matters and may even be less than willing to treat you.
If any legal discussions are recorded in your medical record, the insurance company will attempt to use it against you. Even legal discussions that seem innocent in your record can negatively affect your claim.
Contact Our Firm for a Free Consultation
At Gordon & Partners, we have helped many injury victims over the years obtain the compensation they need to cover their medical bills and recover from their injuries. We are here to answer any questions you may have and discuss how we may be able to help you during a free, no-obligation consultation.
There is no risk in reaching out to our firm and no upfront fees for our services. Our intake staff is available to take your call, anytime, day or night. We only get paid if we help you obtain a recovery.
Call 1 (855) 722-2552 for a Free Case Review.