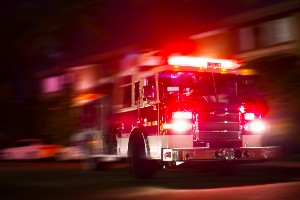 When an emergency vehicle approaches with its flashing lights and sirens, drivers must move quickly and safely to the side of the road. However, sometimes this is not always possible. What if you were unable to move fast enough? What if you did not see or hear the flashing lights and sirens until it was too late?
Accidents involving emergency vehicles can lead to serious injuries and death. Although it is not easy, it may be possible to hold negligent emergency vehicle operators responsible when their actions cause a crash. We recommend reaching out to an experienced West Palm Beach auto accident lawyer to review your claim. Our initial consultations are free, confidential and come with no legal obligation.
Emergency Vehicle Operators Have Some Leeway
Florida law gives emergency vehicle operators some leeway when it comes to traffic laws. For instance, ambulances, fire trucks and other emergency vehicles are able to go through red lights and stops signs, but only after slowing down as may be necessary for safe operation.
An emergency vehicle can also exceed the posted speed limit as long as the operator does not endanger the life or property of others. Emergency vehicles are even allowed to disregard regulations governing direction of movement or turning in certain directions as long as life or property is not endangered.
The law understands first responders have an important responsibility to render immediate aid in the event of an accident. However, this does not mean that emergency vehicle operators have free reign to drive recklessly or unnecessarily endanger the lives of others sharing the road.
Duty of Drivers When Emergency Vehicles Approach
When an emergency vehicle approaches with its flashing lights and sirens, all drivers are required to yield the right of way and immediately do the following:
Pull over as close as possible to the curb
Clear the intersection
Remain stopped until the emergency vehicle passes
This is in accordance with Florida's Move Over law, which is intended to protect emergency vehicles actively traveling on the road and emergency vehicles stopped on the side of the road.
Penalties for Drivers That Do Not Move Over
If an emergency vehicle is en route to an existing emergency – as evidenced by flashing lights and sirens – and a driver does not move over to let the emergency vehicle pass, he or she can be charged with a traffic violation.
Penalties could include a fine of up to $500 and three demerit points added to the driver's license. The driver could also have his or her license suspended for accumulating too many demerit points.
Liability for Accidents Involving Emergency Vehicles
Drivers who obey the law but are still hit by an emergency vehicle may have a legal claim for compensation if they can prove that the operator acted negligently by:
Failing to slow down when passing a red light or stop sign, or
Exceeding the speed limit in a way that endangered life or property
Fortunately, even if you partially contributed to the accident, you may be eligible for compensation. Florida's comparative fault rule allows injured parties who contribute to their own accidents to still collect compensation but their award amount will be reduced according to their degree of fault.
Different legal options may be available for those injured in emergency vehicle accidents. However, not every crash involving an emergency vehicle will lead to a valid claim for compensation – even if it resulted in injuries. These cases can be complex, which is why it is important to discuss your situation in detail with a licensed lawyer. He or she can help you decide on how to proceed.
Contact a Lawyer to Learn More About Your Rights
If you have been in an emergency vehicle accident or in another accident due to negligence, our dedicated legal team is ready to help. Set up a free initial consultation anytime, day or night.
There is no cost to talk to a lawyer about your potential case. Our firm works on a contingency fee basis, which means you pay zero fees up front if we take the case on and zero fees while we work the case. We have more than 25 years of experience helping injured accident victims across South Florida.