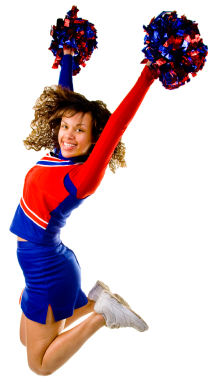 The American Medical Association (AMA) recently adopted a policy declaring cheerleading a sport and is hoping that other organizations and associations follow suit.
AMA members believe that cheerleading is just as rigorous as other activities high schools and the National Collegiate Athletic Association (NCAA) consider sports. By adding cheerleading as a sport, more safety measures for cheerleaders and proper training for coaches can be established.
With the AMA adopting cheerleading as a sport, they are supporting better safety measures and having appropriate organizations declare it a sport as well. Two years ago, the American Academy of Pediatrics began considering cheerleading a sport.
According to the National Center for Catastrophic Sports Injury Research (NCCSI), high school cheerleading is the cause of more than 65 percent of all catastrophic sports injuries among females in the past 25 years.
When these young women are through 10 to 12 feet in the air, they are at risk of suffering neck, head and spine damage. According to the NCCSI, female cheerleaders account for 50 percent of these types of injuries suffered by female athletes.
Having athletic associations consider cheerleading a sport can help protect young women who often fall victim to negligent coaches, unsafe practice habits and other dangerous situations.
If you or someone you know has suffered a serious cheerleading accident, a personal injury lawyer can help obtain the justice you deserve.
Complete the Free Case Evaluation on this page or call Gordon & Partners at 1 (855) 722-2552 to get started on a cheerleading accident claim today.