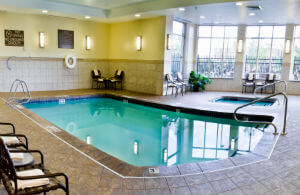 Carbon monoxide is an odorless and colorless gas that is produced by burning fuel from wood, charcoal, oil, natural gas and coal. Any engine or open flame can emit the gas.
Known as the "silent killer," carbon monoxide is one of the leading causes of accidental poisonings in the U.S. Overexposure may result in fatigue, confusion, irregular heartbeat, loss of consciousness, brain damage or death.
Recent headlines have renewed focus on the dangers this gas poses. If negligence played a role in causing an individual's carbon monoxide poisoning, it may be possible to hold the at fault party liable for the damages he or she has caused. Our carbon monoxide poisoning lawyers will review the circumstances of your situation and determine if you have a case.
Faulty Hotel Pool Heater Kills One, Injures Several
The death of a teenager and injuries to 14 others garnered national headlines earlier this month after a faulty hotel pool heater in Michigan caused them to suffer carbon monoxide poisoning.
Those affected included five first responders, a hotel worker and eight children, five of whom were found unconscious near the pool and one who was found unconscious in a first-floor room.
Police who responded to the hotel said the carbon monoxide levels at the pool were 800 parts per million. U.S. standards for carbon monoxide exposure for one hour are 35 parts per million.
Mechanical engineers reported that there were issues with the ventilation system for the pool heater and that the exhaust was not functioning properly. Furthermore, police reported no carbon monoxide detectors in the pool area.
Legal Liability for Carbon Monoxide Poisoning
Landlords, building owners and businesses have a legal obligation to prevent carbon monoxide poisoning. Safety precautions such as testing, using carbon monoxide detectors and compliance with building codes protect occupants from exposure to the deadly gas.
Should a person be injured by carbon monoxide poisoning, a facility's owner, landlord manufacturer or other professional could be held liable for the leak causing overexposure if he or she was negligent in ensuring that guests were protected.
If someone else's negligence caused your carbon monoxide poisoning, you may be entitled to compensation for your injuries. It's best to work with a lawyer who can identify the responsible party, or parties, and pursue legal remedies in your best interest.
Contact the attorneys at Gordon & Partners today to discuss your carbon monoxide poisoning claim. We will work to establish liability and recover maximized compensation for the injuries you have incurred.
Call 1 (855) 722-2552 or fill out our Free Case Evaluation form today.