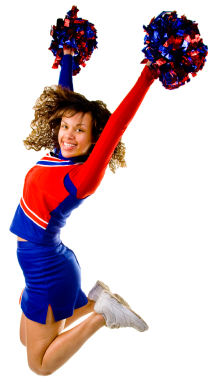 Cheerleading is one of the most popular sports in the United States. An estimated 3 million people participate in cheerleading ever year, from 6 year-old girls to adults performing for professional sports teams. In recent years, there has also been an increase in males participating in the sport.
Cheerleading may be a popular sport, but it is also a dangerous one. The difficult stunts that cheerleaders often execute such as flips, basket tosses, tumbling and pyramids put them at risk for injuries. A study done by the National Center for Catastrophic Sports Injury Research at the University of North Carolina found that 65 percent of catastrophic injuries in high school girls occurred from cheerleading. This is an alarming statistic considering that cheerleaders only make up 12 percent of female high school student-athletes.
Cheerleading Safety Tips
However, there are preventive measures that cheerleaders and their coaches can take to reduce the chances of injuries. The following tips below can help cheerleaders avoid injuries.
Good Coaches
Since cheerleading often requires participants to perform high risk stunts, it's imperative to have a qualified and experienced coach leading the team. Cheerleaders are less likely to sustain injuries if their coach has completed a safety course or has more than one year of coaching experience.
Proper Technique
Athletes should always use proper technique when executing basic skills and difficult stunts. When cheerleaders use proper landing techniques they reduce their chances of getting a knee or ankle injury.
Have a Spotter
Cheerleading squads should have spotters available at all times. A spotter is an individual that assists or catches the top person in a partner stunt or pyramid; their main responsibility is to decrease a cheerleader's risk of injury. Additionally, spotters are used to correct to body form. They should always be used while cheerleaders are learning new skills; using a spotter can help develop an athlete's confidence while they are mastering a stunt.
Proper Equipment
The American Association of Cheerleading Coaches & Administrators recommends that cheerleading squads use mats or a soft even surface when learning new gymnastic-related skills and while performing in competitions. Using a mat can prevent the chances of a severe injury if a cheerleader falls. Cheerleaders that use mats over hard floors decrease their chances of developing an overuse injury. Athletes should wear cushioned shoes when practicing and competing.
Strength and Conditioning
Sprains and strains are the most common cheerleading injuries; good strength and conditioning during the season and off-season reduces an athlete's chances of getting hurt. Cheerleaders should do resistance training to strengthen the muscles in their back, stomach and shoulders. Regular stretching is must for athletes before and after games, competitions and practices.
Stunt Restrictions
Cheerleading governing bodies have put stunt restrictions in place to prevent catastrophic injuries from occurring such as head trauma and spinal cord injuries. Many high schools and colleges have put limits on the heights of cheerleading pyramids. Some organizations even have a limit on how many throwers can be involved in a basket toss.
Skill and Ability
Cheerleaders should only perform stunts that are within their ability to level. Coaches should only allow athletes to perform advanced skills if they have mastered the proper technique.
If cheerleader a does sustain an injury, they need to receive medical treatment before returning to the sport.
Contact a Florida Cheerleading Accident Lawyer
According to the Consumer Product Safety Commission, cheerleading injuries lead to 30,000 emergency room visits every year. If you or a loved one has been injured in a cheerleading accident due to the negligence of another, you may be entitled to compensation for medical expenses, lost wages and other damages. Contact the cheerleading accident lawyers at Gordon & Partners to explore your legal options.
The law firm offers free case evaluations to individuals injured in Florida cheerleading accidents.
Complete the Free Case Evaluation form to receive assistance.