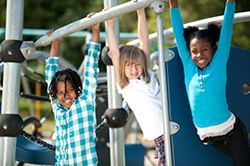 Every parent knows that minor accidents and injuries are a normal part of childhood. Hopefully, your child will get by with no more than a few bumps and bruises. But when a child suffers a more serious injury that should have been prevented, the law affords parents important legal rights.
If your child has been injured by the careless or reckless actions of another person, or by a defective toy or product, you may be entitled to money for medical bills and other expenses related to your child's injuries.
The injury and accident attorneys at Gordon & Partners can help you understand your legal options and explain every step of the legal process. Don't delay. Contact our Florida child injury attorneys today. Call Gordon & Partners at 1 (855) 722-2552 or use our online contact form.
Child injuries can take many forms. Sometimes the injury is the responsibility of an individual, such as a babysitter, teacher or caretaker. Responsibility may also rest with a daycare facility or summer camp, or a corporation that makes children's toys.
* School injuries. Your child may be injured by the negligence of a teacher or coach. Avoidable accidents also take place on the school's playgrounds, on school buses, or during class and afterschool sports programs. School injuries may also stem from cheerleading activities.
* Daycare injuries. We entrust our loved ones to daycare providers, and we have every right to hold them accountable for injuries that should not have occurred, whether the cause was a safety code violation at a daycare center or a failure of the staff to properly supervise a classroom.
* Toy injuries. In 2007, 18 toy-related deaths were reported, and another 170,100 children were hospitalized with toy-related injuries, according to the U.S. Consumer Product Safety Commission. Two of the most common toy injuries stem from lead paint poisoning and choking. Other injuries include poisoning, burns, lacerations and eye injuries.
A competent child injury lawyer knows how each of these injury types can be pursued as an avenue to the financial compensation you need and deserve. Whatever the cause of your child's injury, the child injury lawyers at Gordon & Partners will provide compassionate and effective representation.
If the unthinkable has happened and your child has lost his or her life, we can also assist you with a wrongful death claim. The parties responsible for your child's injury will have their own talented legal teams to defend their interests. You need the child injury attorneys from Gordon & Partners to protect your rights. We represent the people, not the powerful. Our firm is dedicated to representing and fighting for the rights of the injured.
Contact the Florida child injury lawyers at Gordon & Partners today. Please complete our online contact form or call us toll-free at 1 (855) 722-2552.