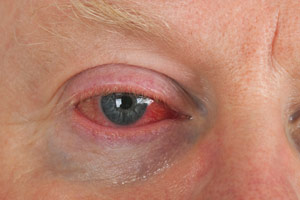 A corneal abrasion can be described as a scratch or trauma to the cornea of the eye. The cornea is the clear covering over the iris, the colored part of the eye, and the pupil, which is the black circle in the eye. These elements are critical for both vision and the protection of the eye.
As the cornea protects the eye, it is constantly working to fight objects from invasion. When we are involved in an automobile accident, there may be many objects flying through the air which could cause harm.
When an object scratches the cornea it is known to cause extreme pain and discomfort, and it is best not to rub, which could cause further damage.
Did you know that in the United States, an estimated 2.4 million eye injuries occur each year resulting in approximately one million people losing some sort of vision?
Are you the victim of a corneal abrasion after being involved in an accident that was not your fault?
If you or a loved one has been involved in an automobile accident which resulted in a corneal abrasion, you or the victim may be eligible to receive compensation for damages or medical expenses.
To find out how we can help, complete the "Free Case Evaluation" on this page or call us today at 1 (855) 722-2552.
At Gordon & Partners, we offer 100% FREE consultations and you won't owe us any fees or costs if we are unable to recover financial compensation for you.
Common Causes of a Corneal Abrasion
The cornea is a relatively vulnerable and sensitive area of the body, although our eye lids are designed to protect the eye ball, sometimes foreign materials are still able to find their way in, especially during an automobile accident. Think of everything that is in your car and picture it airborne, this can greatly increase a chance of a corneal abrasion.
Many objects can cause a corneal abrasion, some of which include:
Broken glass
Chemical burns
Flying debris (Glass, sand, dirt, and other foreign materials)
Air bags
Fire
Dirty or poorly fitted contacts
Often times the symptoms of a corneal abrasion will not appear immediately, often resulting in unknown causes. However, it may be safe to assume, if we are involved in an auto accident, something in our vehicle was the probable cause.
Common Reactions to Corneal Abrasions
Our natural reaction as humans is to rub our eyes as soon as we feel something uncomfortable, however this can often lead to further complications. As a result, medical professionals advise the following for tending to these sorts of matters:
Blink your eyes rapidly
Lift your upper eyelid over your lower eyelid
Rinse the eye with a saline solution or clean water
It should also be noted not to remove any objects that have become lodged in the cornea or anywhere in the eyeball; this should be left to a medical professional. If a person continues to feel like something is stuck in their eye after these steps, contact a medical professional as soon as possibly or visit the emergency room.
Common Symptoms of a Corneal Abrasion
Experiencing a corneal abrasion may seem like nothing you have ever experienced before, and will likely not forget the amount of pain and discomfort it causes. Of course, when this occurs during an automobile accident, it may not be the only source of pain.
A few common symptoms of a corneal abrasion include:
Feeling of sand in the eye
Pain or discomfort while opening and closing the eye
Headache
Redness and tearing
Sensitive to light
Loss or blurred vision
…just to name a few
The auto accident attorneys at Gordon & Partners can provide the honest legal guidance you need after a crash. With over 25 years of experience handling personal injury cases throughout South Florida, we understand the struggles created after bring involved in an automobile injury.
To learn more, complete the "Free Case Evaluation" on this page – It's Free
Diagnosis and Treatment
Any injury to our eyes requires immediate medical attention. A eye doctor will examine the eye and use a special eye stain to recognize any abnormalities of the cornea. If an object is found on the cornea an eye doctor has the tools to remove it safely without causing further damage.
The most common forms of treatment are as follows:
Topical Analgesics
Topical analgesics are a non-steroidal anti-inflammatory drug used to reduce the pain and discomfort of a corneal abrasions.
Topical Antibiotics
Topical antibiotics are used because some infections can cause slower healing of corneal abrasions. Thus, topical antibiotics speed the healing process by fighting away infection.
Oral Analgesics
Although there is no direct evidence on the efficacy of using oral analgesics in treating corneal abrasions, it can be issued for pain relief and is far less expensive than topical alternatives.
Generally patients should be re-evaluated by their eye doctor 24 hours after their initial evaluation. If the abrasion is not fully healed, they should return for another evaluation three to four days later. Healing time often depends on the size of the corneal abrasion. With traumatic corneal abrasions symptoms may reoccur up to three months after the injury initially occurred.
Contact an Experienced Auto Accident Attorney in South Florida
After an automobile accident, life can become hectic, and a skilled auto accident lawyer can help guide the way through all the legal issues that follow.
At the law offices of Gordon & Partners, we take pride in our reputation of helping the injured, not the powerful, and provide free, no-obligation, and confidential consultation for our clients.
Having obtained favorable verdicts and settlements for thousands of clients, we have been helping injured South Florida motorists for over 25 years and are here to help you today.
To learn more and get started today, please contact our experienced auto accident lawyers at 1 (855) 722-2552. A member of our team will gather the details of your accident and refer you to one of our attorneys.
Alternatively, complete the "Free Case Evaluation" application on this page—it's free to send an we will contact you shortly after we receive your inquiry.
Gordon & Partners— personal injury lawyer s dedicated to helping accident injury victims throughout Florida.