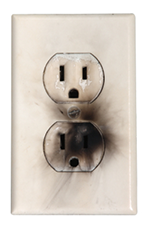 Electrical burns are often caused when an arc of electrical current travels either through the air or via a tool and then enters a person's body. This arc is often the result of an exposed wire, cord, outlet or appliance being touched, which allows the transmission of electrical energy to travel from the power source and into the person that is touching the exposed area. The subsequent burn is caused by the transfer of heat that is generated by the flow of the electric current through the body of the victim.
In a study released by the United States Department Of Labor, it was stated that the hand is the most frequently the entry point for this electrical current, and thus is often the most seriously damaged by the resulting electrical burns.
Sources Of Electrical Burns
Anywhere that live electricity flows is a potential source of electrical burns and of general personal injury. However, everyday items are commonly found to be the culprit in personal and property damages cases.
Some of these items and areas can include:
exposed electrical outlets
common household appliances (hair dryer, clothes iron, toaster oven or similar)
overhead power lines
sticking items into a power point (metal pins, wet fingers or similar)
mishandling live wires
The last point noted above is often associated with tradesmen who are handling wires in a construction environment without previously checking if they are working with live power, however, any home handyman or anyone handling exposed wires can be at high risk of a serious burn injury in this type of situation.
Related Injuries Resulting From Electrical Burns
There are a multitude of injuries that a person can sustain as a result of receiving an electrical burn. While the most obvious is the physical burn on the skin which is generally caused by the high temperatures generated by the electrical current, in many cases, there are also serious internal injuries that are associated directly to the burn.
Some of these include (but are not limited to):
internal hemorrhage
nerve damage
muscle damage
tissue destruction
involuntary muscle contraction
In some instances, these internal injuries may NOT be immediately known to either the victim or any of the observers, however, if they are left untreated, they have been known to result in death.
With this in mind, EXTREME CAUTION must be used if you are ever in the situation of needing to assist someone that has been injured in an electrical burn situation.
Should I Employ The Services Of An Injury Lawyer?
If you or a loved one has been injured on the job, or as a result of the negligence of someone else, it is wise to contact a skilled personal injury attorney to help determine if you have a case.
In many instances, people that suffer serious electrical burns are often left facing enormous medical bills, loss of wages, damages to property and on-going physical therapy after the event. At Gordon & Partners, we have the experience and knowledge to let you know if you have grounds to file a claim or not.
With over 180 years of combined legal experience and thousands of verdicts and settlements obtained for our clients, we also have the resources to help guide you through the personal injury claims process if you do end up having a case. As an added benefit to our customers, we proudly offer a no-fee guarantee, which means that we don't charge you for our fees or services unless we obtain a settlement for you.
To find out more, simply contact us today on 1 (855) 722-2552. We service most of South Florida and are ready to help you now.
To start immediately, simply fill out a FREE case evaluation form