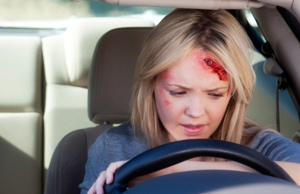 Facial injuries are a common occurrence in many automotive accidents, which can range from minor cuts and abrasions to much more serious injuries including broken noses, broken jaws and lost teeth.
In addition to the physical pain that is often associated with these injuries, many individuals often experience mental anguish that can last for a significant amount of time after their physical wounds have healed. In the event that an accident victim has been permanently scarred or disfigured, the effects can last a lifetime.
Have you or someone that you know suffered a serious facial injury that was the result of a car, truck or motorcycle accident that was caused by another motorist?
Did you know that the victim may be eligible to file a lawsuit that claims for financial compensation for their injuries, losses and any medical costs that may be associated with the injury?
At the law offices of Gordon & Partners, our team of lawyers can help to discuss your legal options and explain in simple terms, Florida's statute of limitations and how it relates to your collision.
To have your case evaluated by Gordon & Partners, fill out our Free Case Review form or call us today at 1 (855) 722-2552.
We proudly offer facial injury victims 100% FREE consultations and you won't owe us any fees or costs if we are unable to recover financial compensation for you.
Types of Facial Injuries Sustained In Auto Accidents
Maxillofacial trauma, also referred to as facial trauma, is an injury that is commonly sustained in car accidents. In fact, did you know that over half of the people involved in vehicle crashes will suffer some type of facial injury?
With this in mind, facial injuries can be classified into four groups:
Soft Tissue Facial Injuries- Lacerations, contusions and bruises are some of the most common soft tissue injuries. Often, soft tissue injuries will require stitches for treatment. Medical professionals need to be careful when attending to soft tissue injuries because the salivary glands, salivary ducts and facial nerves may have been injured too.
Facial Bone Injuries- Fractured facial bones are treated similarly to bone fractures in other areas of the body. However, physicians cannot you use a cast on the face, so other procedures are used to stabilize the face.
Dental injuries- It is not uncommon for passenger occupants to suffer isolated dental injuries in a crash. Accidents victims need to see a dentist immediately if they have suffered any type of dental injury.
Joint Injuries- When the driver's face slams into the steering wheel during a crash; they can sustain temporomandibular joint injuries, or TMJ. The force of the impact can cause the jaw bone to fracture or dislocate. Besides maybe a swollen eye, TMJ victims may not experience any physical changes. TMJ can cause complications such as a locked jaw, limited mobility of the jaw joint, an abnormal bite, headaches, clicking jaw and facial, back and neck pain.
If you have been injured in an automobile accident, our attorneys recommend getting medical attention immediately. In addition, all medical documents can be used in the court of law to formulate a case against a negligent individual that may have caused such injuries.
Common Auto Accidents That Can Cause Facial Injuries
Facial injuries can be caused by a number of different types of accidents. In most cases, the force of another vehicle will cause an individual's face to strike the steering wheel, dashboard, or even the windshield. This will typically result in one or more of the types of facial injuries listed above.
Some common causes of facial injuries include:
Blind spot accidents
Broken glass
Drunk driving accidents
Head on collisions
Rear end collisions
Highway accidents
Hit and run accidents
Rollover accidents
Texting and driving accidents
Reckless driving accidents
Of course, there are many different causes of facial injuries, however these are the most common resulting from automobile accidents.
Need Help? Contact Our Accident Injury Lawyers Today
Every year, thousands of traffic crashes occur on Florida's roads and highways. If you or a family member has suffered a facial injury during motor vehicle accident you may be able to recover damages for medical expenses, lost wages and property damage.
At the law offices of Gordon & Partners, we urge accident victims to seek legal consultation following a collision. Our law firm offers free legal consultations to all accident victims. During the consultation, an attorney will review your accident and recommend the best course of action to pursue.
We have three convenient office locations in South Florida, including:
Pembroke Pines
Palm Beach Gardens
Stuart
…. to assist injured individuals with their claims.
If you are interested in learning more about our auto accident attorneys , or to schedule a free case review, we welcome you to contact our firm at 1 (855) 722-2552, where a member of our intake staff will collect information regarding your accident and connect you with one of our caring auto accident attorneys ready to handle your case in the court of law.
Alternatively, complete the "Free Case Review" form on this page and we will contact you shortly after we receive your inquiry.
Gordon & Partners—proudly serving accident injury victims in Florida for more than three decades.