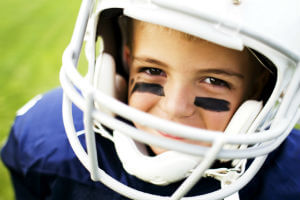 Football is a physically taxing sport that undoubtedly poses serious risks to those who play.
Of the many injuries that can occur on the field, concussions are one of football's more common injuries. If you feel as though your participation in football has led to concussions that have reduced the quality of your life, you might have the foundation for a personal injury case.
Let our West Palm Beach brain injury attorneys review the facts of your claim to help you determine if you have a case. Contact us today for a free, no obligation consultation.
What is a Concussion?
Concussions are best defined as a traumatic brain injury (TBI) caused by a blow to the head. Even a blow to the body has the potential to cause a concussion. Some are concussed as a result of a fall or another injury that shakes the brain with force.
Football players are especially susceptible to concussion injuries simply because the game is incredibly aggressive. A football player's brain can be pushed to the side of the skull, leaving a bruise and/or stretching and tearing of nerve tissue, which has the potential to produce life-changing complications.
Every concussion, even those of the most minor variety, must be cared for in a timely and delicate manner. A concussion that goes untreated, or an especially harsh concussion, can lead to long-term neurological disorders that can impact your senses and memory.
Concussion Side Effects
A hard hit that causes a concussion can change chemical balances and spur a loss of consciousness. Some common examples of short-term effects of concussions include:
Memory loss
Dizziness
Blurred vision
Headaches
The long-term effects of concussions include but are not limited to:
Difficulty concentrating
Difficulty completing tasks
Learning disabilities
Mood swings
Heightened aggression
Irritability
Emotional trauma
Certain nerve tissues have the potential to grow back yet others can be so severely damaged by the concussion that they no longer have the ability to transmit information to other cells within the brain.
Why Repeat Concussions are so Dangerous
The United States Centers for Disease Control and Prevention states that athletes who have suffered a concussion have a much higher chance of enduring another. This opens the door for the development of second impact syndrome, which causes brain tissue to swell and lead to reduced blood flow to the brain.
Furthermore, the individual may suffer more severe concussions that take longer to recover from. If a football player suffers a concussion and begins playing again before fully recovering, he has a higher risk for developing additional, more severe concussions and other neurological problems.
Protections for Youth Athletes
These risks are especially prevalent for youth athletes, which is why in 2012, state legislators amended Florida statutes 943.0438 and 1006.20 to require that athletes in K-12 schools who suffer a concussion be immediately removed from play. That child cannot return to practice, tryouts, workouts or other physical activity until he or she has received written clearance from a medical professional that states that the young athlete no longer exhibits symptoms, signs or behaviors consistent with a concussion or other head injury.
Additionally, parents of student athletes must sign an informed consent explaining the nature and risk of concussion and head injury in the sport.
Although head injuries are common among football players, there are some situations where a head injury could have been avoided or action could have been taken to limit the severity of the injury. This is especially true if a coach or program director fails to obey the law regarding youth concussions.
If this is the case, it may be possible to pursue a personal injury case seeking compensation for the injuries you or your child has sustained. This could include payment for:
Past, present and future medical bills
MRIs, CT scans and other tests
Rehabilitation
Therapies
Long-term care
Pain and suffering
Loss of enjoyment of life
our attorneys will review the circumstances of your injury to determine if you have a case. If you do, we will immediately get to work gathering evidence and building your case to help you obtain maximum compensation.
Learn More About Your Legal Options
If you believe your injuries were caused or worsened by another's actions, do not wait to contact Gordon & Partners to schedule a free, no obligation consultation. We will review the details of your claim free of charge and will not charge any fees unless we recover compensation for you.
Call 1 (855) 722-2552 or fill out a Free Case Evaluation form.