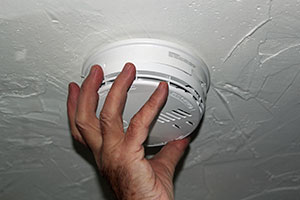 A Wilton Manors family is mourning the loss of a loved one after being exposed to carbon monoxide inside the family townhome. Four others, including the victims wife and daughter, were hospitalized.
The family was found on Monday morning after neighbors in Belle Isle on the 2200 block of Northeast 9th Avenue noticed the family's garage door had been left open while a vehicle was left running for several hours.
One neighbor knocked on the front door, but there was no answer. As the neighbor walked into the garage, they realized the door leading to the home was unlocked and the family SUV was still on. The neighbor went inside the home and discovered the father on the floor near the door.
The good Samaritan attempted CPR, turned off the car and quickly called 911. When firefighters arrived, they found two deceased dogs and a cat and realized it was a hazardous materials scene.
Firefighters found the victims wife unconscious on the second floor and their daughter unconscious on the third floor. A couple living directly next door to the family was also found unconscious.
Four people, including the neighbor who found the family, were taken to the hospital for carbon monoxide poisoning. A cat in the home was rescued.
According to Fire-Rescue, the carbon monoxide may have traveled from the running car into the home despite the garage door being opened. Keyless ignition systems and the ability to start a car from outside the vehicle could have led to accidental carbon monoxide poisoning.
Carbon monoxide is a colorless and odorless gas that can become deadly within minutes.
Some signs of carbon monoxide poisoning include:
Dizziness
Nausea
Sudden headaches
Chest pain
Shortness of breath
In Florida, buildings with a heater or appliance, a fireplace or an attached garage must have an approved operations carbon monoxide alarm installed within 10 feet of each room used for sleeping purposes. Carbon monoxide detectors should be replaced every five to seven years.
The personal injury attorneys at Gordon & Partners send their deepest condolences to all those affected by this terrible tragedy and wish those who were injured a speedy recovery.