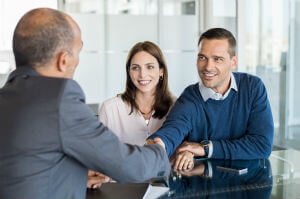 Before you hire a personal injury attorney , it is important that you ask the right questions to ensure he or she is the right fit for you and your case. Below, you will find common questions to ask a personal injury lawyer before making the hiring decision.
The trusted West Palm Beach personal injury attorneys at Gordon & Partners are happy to answer these questions and any others that you have about your case or our services. We can discuss your situation one-on-one during a free consultation. Contact us today to learn more.
Have You Handled My Type of Case Before?
Every type of personal injury case involves different rules and procedures, so it is important that you select an attorney who has experience handling your specific type of case.
At Gordon & Partners, we exclusively handle personal injury cases and benefits that may be available based on these injuries. Our attorneys are seasoned at tackling cases involving:
Automotive accidents
Aviation accidents
Birth injuries
Brain injuries
Burn injuries
Carbon monoxide poisoning
Construction accidents
Defective products
Dog bites
Maritime accidents
Medical malpractice
Motorcycle accidents
Nursing home abuse
Slip and fall accidents
Truck accidents
How Often Do You Go to Trial?
Most personal injury lawsuits are settled before trial. However, it is important that your attorney have a track record of successfully taking cases to trial. This is important because insurance companies can be difficult to work with and are not always willing to negotiate. If the insurer refuses to offer fair compensation for your case, your attorney may need to take your case to trial to obtain the compensation you deserve.
Trying a case is a complicated process that requires specific skills and experience. If your attorney has never tried your type of case before a jury before, you may risk not obtaining the compensation you deserve.
The attorneys at Gordon & Partners are experienced trial attorneys with nearly 40 years of experience trying personal injury cases and recovering favorable verdicts. We prepare every case as if it is going to trial so that we are prepared if a trial is necessary.
What Will My Participation in the Lawsuit Be?
Before entering any legal situation, you should find out what level of participation your attorney will require from you.
Although the attorneys at Gordon & Partners will handle every detail of your case so you can focus on your recovery, there may be times that we require your participation.
We may ask you to visit several doctors and retain copies of important documents that show the extent of the damages that you have suffered from your injuries. We may call for your help to speak to investigators and to gather information to support your claim. We will also need your approval before accepting any settlement offer on your behalf. You are an integral part of the process and your input is valued.
How Much Is My Case Worth?
One of the most common questions that we receive is "How much is my case worth?" It is important to have a good idea about the potential value of your claim. However, the answer to this question is different in every case. The actual value of your claim is based on many factors including:
The extent of the defendant's liability
Whether you were partially negligent in contributing to the accident
The nature and severity of your injuries
The damages that you sustained
Our vast experience in handling personal injury cases allows us to offer an accurate estimate of the potential value of your claim. However, the case is ultimately worth whatever you and the insurance company agree to, or what a jury decides if you go to trial. We can gather evidence to support your claim and aggressively pursue compensation for your injuries.
What Is Your Fee?
Before hiring a personal injury lawyer, it is important to know what his or her fee will be so you know what you can expect if you hire that person to handle your case.
At the law offices of Gordon & Partners, we charge no fees or costs unless we obtain compensation for you. We realize that many accident victims could not have planned for these events and are not prepared for the expenses associated with pursuing a personal injury claim. This is why we provide legal services to you on contingency and we cover the costs necessary to build a strong claim against insurance companies with big pockets.
If we secure a settlement or win at trial, we charge a percentage of the compensation we obtain for you. The percentage may vary based on the type of case. The percentage is outlined in our written legal services agreement. One of our experienced attorneys will thoroughly explain our fee structure during your free consultation.
How Can I Learn More?
If you are considering hiring a personal injury attorney, contact Gordon & Partners today to schedule a free, no obligation consultation to learn more about how we can help you. We are experienced and trusted injury attorneys who are committed to fighting for the justice you deserve.
In your free consultation, we will answer the questions listed above and any others that you have. We are here to make this process as easy as possible for you so that you can focus on recovering from your injuries and returning to your life.
Call 1 (855) 722-2552 or complete a Free Case Evaluation form.