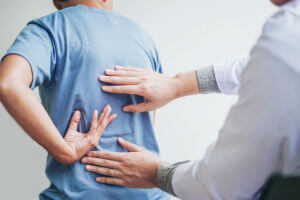 In many accident cases, a victim may face questions and opposition by the other party's insurance company and legal team about any pre-existing conditions they have. While it can be difficult to file a personal injury claim for conditions and injuries that existed before the accident, you may still be eligible to compensation if your new injury caused your pre-existing condition to worsen.
The experienced West Palm Beach personal injury attorneys at our firm can discuss the legal options available to you during a free consultation. We can help provide valuable information on pre-existing conditions, how they can impact your claim and how you can maximize your recovery.
What is Considered a Pre-Existing Condition?
A pre-existing condition is previous harm done to the body, typically having to do with the neck, back, or head, that may be worsened after a new accident. While some prior injuries from other accidents may have properly healed, new injuries may aggravate an existing issue. These conditions may include:
Neck injuries – A pre-existing neck injury may happen due to a previous slip and fall or whiplash from a car accident. Persistent neck pain can cause ongoing stiffness.
Back pain – Many back injuries happen in work-related accidents, causing degenerative disc disease or debilitating back pain. Heavy lifting or slipping and falling may worsen these injuries.
Head injuries – Previous trauma to the head or brain may increase the chance of any new injury to become worse and even more serious. Repetitive head impacts and concussions after an accident can cause symptoms such as memory loss, behavioral changes and other impairments.
These types of injuries may require an extensive analysis of your medical records to help determine one of two things about the accident – either the new injury was unrelated to your existing injury or the new injury made the existing injury worse.
Disclosing Prior Injuries
Some accident victims forget about previous injuries they have sustained or may think that these injuries have nothing to do with their new injury and therefore do not disclose them. When victims decide to hide pre-existing conditions, they can adversely affect their injury claims and damage their credibility. They can even face sanctions by the court for these omissions.
It is important to know that you will be asked for a lot of information during the claims process. The opposing party has the right to request information about pre-existing conditions and will often receive copies of your medical records going back several years. Failing to disclose these conditions and then the other side later finding out about them often diminishes your chances of obtaining a fair settlement.
The Eggshell Skull Rule
In certain cases, a pre-existing condition can make a person more susceptible to injury in an accident. However, this does not mean that you are not eligible to compensation. The eggshell skull rule maintains that any individual who causes someone else's injury is not free from liability simply because the victim has a pre-existing injury that makes him or her more susceptible to a new injury.
This legal theory also applies in situations when the victim's existing injury was previously unknown. The other party may still be held liable even if a victim without a pre-existing condition would not likely have been injured under similar circumstances.
If you can prove that your new injury was caused by another person's negligence, you may be able to recover compensation for your losses.
The Importance of Medical Records
Medical records are particularly helpful in cases involving pre-existing injuries because they give a clear snapshot of a person's condition before and after the accident. By receiving prior treatment for your injuries, you will have documentation in place that shows the injuries you have suffered before, what symptoms you experienced and how this information relates to the injuries you sustained in the accident. A skilled personal injury lawyer can use your medical records to establish the aggravation of your prior injuries.
Schedule a Free Consultation Today
If you suffer from a pre-existing condition, the legal team at Gordon & Partners may be able to thoroughly investigate your claim and determine the severity of your new injury, the appropriate treatment and the timeline on your recovery so that we can establish your case's value.
We know how to build a strong case around the worsening of an existing injury. You may be eligible to compensation for the medical expenses, property damage, lost wages, pain and suffering and other damages you have sustained. Let us defend your best interests. We do not get paid unless you do.
Contact us today at 1 (855) 722-2552 to schedule your free consultation.