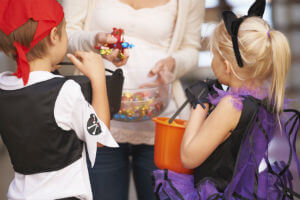 Halloween can be a fun time for the entire family. However, certain factors can threaten the safety of parents and their children during this popular holiday. Every year, about 3,800 Halloween-related injuries occur. It is important to take proactive steps to protect your family and make sure that Halloween is about having fun and not having to deal with a harmful injury.
The West Palm Beach personal injury attorneys at Gordon & Partners want you and your family to stay safe this Halloween. Here are some Halloween safety tips to consider:
Costume Safety
The first step to a happy and healthy Halloween is to make sure your children's costumes are safe. Make sure that all costumes, wigs and accessories are fire-resistant. Avoid masks that can obstruct vision. Use nontoxic makeup and test a small area for allergy or irritation. Remove makeup before bedtime to avoid skin and eye irritation.
If your children will be out after dark, fasten reflective tape to their costumes and bags. Eighty-two percent of parents skip this step, it is important to ensure that others can see your children.
Trick-or-Treating Safety
Forty-one million children will trick-or-treat this year in the United States, so it is important to understand how to protect them. The first step is to accompany your children trick-or-treating. It can feel grueling, but it is important. Seventy percent of parents do not usually accompany their children trick-or-treating, including 12 percent of parents who allow children five or younger to trick-or-treat alone.
It can also be difficult for motorists to see your children. Have your child use a flashlight. About 63 percent of children do not use a flashlight while trick-or-treating. Do not be a part of this statistic. Also, teach your children not to enter the home of a stranger under any circumstance.
Roadway Safety
It is also important to make sure your children try to avoid walking on the road or too close to the road. Children are twice as likely to be hit by a vehicle or killed in a traffic accident on Halloween than on any other day. You have to be careful with motorists because they may have been out celebrating on their own. About 52 percent of motor vehicle deaths on Halloween involve alcohol.
Follow these safety guidelines:
Use crosswalks – Cross at crosswalks where available. Otherwise, cross at corners and use traffic signals.
Watch for cars turning or backing up – Stay particularly conscious of cars turning or backing up.
Walk on sidewalks – Stay on sidewalks where they are available.
Walk facing traffic – If there are no sidewalks, walk facing traffic as close to the curb as possible.
Slow down – If you are driving, go slowly in residential areas. Children may dart into the street or move in unpredictable ways.
Avoid distractions – Put phones and other electronic devices away so you can concentrate on the current task.
Candy Safety
Children will be excited to dig into their treats immediately. However, it is vital to tell your kids not to eat anything before they get home and only after you have had a chance to inspect the candy. Additionally, one in 13 children have a food allergy, so it is important that you check for any foods that your child may have an allergic reaction to.
Reports of tampered treats have given rise to increasing safety concerns involving Halloween candy. Parents should remove any candy or other items that do not look like they belong. Homemade treats may also need to be discarded.
Also, give your kids a few days to eat their candy instead of allowing them to eat it all at one sitting, which will likely make them sick.
Private Property Safety
Halloween is also a time for parties and visits from trick-or-treaters. Check your property for potential hazards to avoid a claim against you. Keep areas well-lit to avoid parents and their children from accidentally falling on your property. Keep your walkways clear and avoid putting any decorations near heat sources. Also avoid using fog machines because they can impair visibility.
If you or your child is injured on Halloween, it is important that you seek medical attention. Then, contact Gordon & Partners for a free case evaluation. We can help you gather the necessary information to help support your claim.
We have provided diligent representation to injured clients who were harmed by the negligent conduct of others. We can discuss your legal rights and the possibility of removing compensation during a free consultation.
Our team is here for you. Call 1 (855) 722-2552 or fill out our Free Case Evaluation form today.