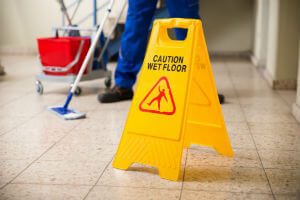 Slip and fall accidents can happen under almost any circumstance and in a variety of locations.
If your accident was caused by a hazardous condition caused by the property owner's negligence, you may have a legal claim and may be entitled to compensation for your medical bills, lost wages, pain and suffering, and more.
However, it is important to know Florida's laws about slip and fall accidents in order to determine if you have a case. The personal injury attorneys at Gordon & Partners can review the details of your potential case for you.
Liability for Slip and Fall Accidents
Slip and fall accidents in Florida fall under premises liability law, which requires property owners or businesses to keep property in a reasonably safe condition for those who may enter.
If property owners fail in this obligation, they may be held liable for any resulting injuries. However, Florida law details the requirements for holding various property owners liable for a slip and fall accident:
Businesses
Slip and fall accidents can happen in a variety of business environments, including in grocery stores like Publix, shopping malls, stand-alone stores, hospitals and other types of businesses.
In order for a business owner to be held liable for an slip and fall involving a temporary foreign substance, Florida Statute 768.0755 requires that the property owner had actual or constructive knowledge of the dangerous condition that caused your injury and should have taken reasonable steps to remedy it.
According to the law, an injury victim can prove this by providing evidence showing:
The dangerous condition was in place for so long that the property owner should have become aware of it through exercising ordinary care.
The condition occurred with regularity, so it was foreseeable.
It must be clear that the property owner was aware of the condition, yet failed to act with reasonable care to fix it or warn others about it so as to prevent an injury. This is considered negligence.
If we can prove all of these conditions and show that you suffered damages, such as medical bills or missed time at work, you may be able to file a slip and fall claim against a business.
Landlord Liability
Like other businesses, landlords have an obligation to maintain their premises in a clean and safe way.
According to Florida Statute 83.51, landlords must comply with the requirements of building, housing and health codes, and if no applicable codes exist, they must also maintain:
Floors
Windows
Steps
Porches
Exterior walls
Roof
Foundation
Other structural components
Common areas within the property must be kept in a clean and safe condition that complies with these requirements and is free of garbage and debris.
If a landlord is negligent in repairing any of these items and a slip and fall results, the landlord could be held liable. However, a landlord is not liable for conditions created or caused by the negligence of a tenant, a tenant's family member or another person on the property without the tenant's consent.
Private Home
All property owners including owners of private homes are required to maintain a safe environment for those who are invited as guests into their home.
If a property owner fails to immediately fix a hazard or warn guests about the dangerous condition, he or she could be held liable for any injuries resulting from a slip and fall.
Although most people are reluctant to file a lawsuit against someone they know, you should understand that your claim will most often be filed against the person's homeowner's insurance rather than the individual.
Government or Public Property
If you slip and fall on public property, including parks, city- or state-owned buildings, city sidewalks, and public facilities, the process of filing a slip and fall claim against the government entity that owns it is much more complicated than filing a claim against a private company or individual.
Typically, government entities, such as the state, city, town or village, have sovereign immunity from civil lawsuits. This means that the government cannot be sued for civil damages.
However, the one exception to this rule, as outlined in Florida Statute 768.28, is if the negligent act or omission of a city employee within the scope of his or her employment caused personal injury , damage to property or wrongful death.
This means you can file a slip and fall claim if it can be proven that a government employee's negligent actions directly caused your injuries. The government entity rather than the employee will be held liable.
However, before you can file a lawsuit for a slip and fall on government property, you must provide written notice of your intent to file a claim to the appropriate government agency within three years of the accident.
The notice must be written on paper, it cannot be emailed, and must include:
The address of the slip and fall accident
What caused your fall
Photos and documentation of the incident
Medical documentation of your injuries
Documentation supporting the amount of compensation you are requesting
Once notice has been filed, the city has six months to determine if it will accept or deny your claim.
our attorneys will investigate your claim to determine the government entity responsible for your injuries. We will gather all of the necessary evidence and create and file your notice document for you.
Trespassers
It is important to note that individuals will only have a slip and fall case if they were on the property legally and received an expressed or implied invitation from the property owner. This can include those who are invited into a home or shoppers in a store.
Florida Statute 768.075 states that property owners cannot be held liable for injuries to trespassers if they were under the influence of alcohol or another type of mind-altering substance. However, the property owner can be held liable if his or her gross negligence or intentional misconduct caused harm to the trespasser.
They could also be held liable if the trespasser:
Had reason to believe he or she was invited on the property
Was a "discovered trespasser," which means the property owner knew of the trespasser's existence on the property at least 24 hours before the accident and did not remove or warn about a known hazard
Was an "undiscovered trespasser" and the property owner was not aware of his or her presence on the property before the accident, but the property owner acted unlawfully toward the trespasser once his or her presence was known
Florida Comparative Negligence
Additionally, if the injury victim was partially at fault for his or her injuries, his or her compensation will be reduced by the percentage of his or her fault, according to Florida's comparative fault statute.
For example, if the person was 20 percent at fault for his or her injuries, his or her compensation will be reduced by 20 percent. If he or she was awarded $100,000, he or she would only be able to recover $80,000.
Legal Help for Your Slip and Fall Claim
If your slip and fall injury was caused by someone else's negligence, you should contact our slip and fall accident lawyers as soon as possible for more information about your right to file a claim for compensation for your medical bills, lost wages, and pain and suffering.
We will guide you through the legal process, working to hold negligent parties accountable for the harm they have caused while pursing maximized compensation for your losses.
Call 1 (855) 722-2552 or complete our Free Case Evaluation form today.