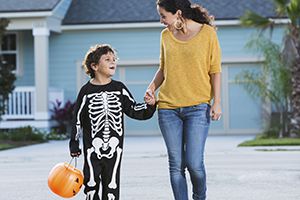 Halloween is a highly anticipated holiday every year among children, and even some adults. Children look forward to donning their favorite costumes, trick-or-treating and gathering as much candy as possible.
But one important thing is often overlooked when it comes to this spooky and fun holiday: safety. More than twice as many children are killed in pedestrian accidents between the hours of 4 p.m. and 10 p.m. on Halloween than any other time of year during those same hours.
There are several important Halloween safety tips that parents should consider in their preparations for the holiday. Our West Palm Beach personal injury attorneys recommend the following tips:
Costume Safety
Decorate your childs costume and candy bags with reflective tape, flashing lights and light, bright colors to increase their visibility to nearby drivers.
Opt for face paint rather than masks. Masks often obstruct a childs vision, making it difficult for them to see oncoming cars and other dangers.
Choose costumes that are flame resistant, and make sure that it is not too long and can trip your child.
Pedestrian Safety
Remind your child of the importance of paying attention to vehicles traveling nearby. Make sure they always walk on the sidewalk or against traffic on the side of the road if a sidewalk is not available.
Plan your trick or treating route in a familiar and well-lit neighborhood. Set a plan ahead of time about where you will be going.
Remind your child to walk, not run, between houses, and make sure they only cross the street at designated crosswalks. They should look left, then right, and then left again while crossing the street.
Driver Safety
Parents and other motorists heading out on the road on Halloween should take extra precaution and eliminate any potential distractions in their vehicle while driving.
Slow down, especially in residential neighborhoods, and anticipate heavy pedestrian traffic and unpredictable children.
Do not drink and drive.
If your child is injured in a pedestrian accident or any other type of accident this Halloween, turn to the experienced attorneys at Gordon & Partners for help getting the compensation and justice you deserve.
Call 1 (855) 722-2552for a free consultation.