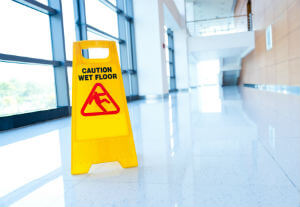 Slip and fall accidents are a common cause of injuries in Florida. These accidents can lead to hefty medical expenses and lost wages from time spent recovering from your injury.
For this reason, Florida's premises liability law holds property owners responsible for injuries that occur on their property as a result of a failure to maintain a safe property.
If you have been injured on another's property, it is important that you take several critical steps after an accident to help ensure your right to file an injury claim. One of the most important steps is to contact a trusted West Palm Beach slip and fall attorney for a free consultation. Our experienced lawyers can discuss the circumstances of your accident and help you determine if you have a case.
You should also:
1. Seek Immediate Medical Attention
Although many slip and fall accidents seem minor at first, these accidents can cause severe injuries.
Because of this, you should see a doctor as soon as possible after your accident. You may have injuries that are not immediately apparent, as many injuries have delayed symptoms that do not appear for a while.
After you seek medical attention, follow your doctor's orders. This can help prevent the aggravation of your injuries and can demonstrate that you take the injury seriously. If your doctor schedules any follow-up appointments, be sure that you attend these so your recovery is properly documented.
Seeking proper medical attention can ensure that your injuries are properly diagnosed and treated. This also helps document your injuries for the insurance company and creates a link between the fall and the injuries you sustained.
2. Report the Incident
Further document the accident by filing a report. Try to find out who is in charge of the property and report the accident to them.
If you slipped and fell in a business, notify the business owner or manager. If you were injured on property owned by another person, report the incident to the property owner or landlord. If the injury occurred on government property, notify the agency of the accident.
When filing an official report, avoid providing too many details or admitting fault for the accident. It is best to only state the facts of the incident as you know them.
3. Take Pictures
If possible, take pictures of your injuries, the area where the accident happened and any factors that may have contributed to your slip and fall. For example, take pictures of conditions like:
Puddles of water on the floor
A lack of danger signs
Food products on the floor
Oil spills
Jagged pavement
Torn rugs or carpet
Loose wires or cords
Debris strewn in the area
Shiny, newly polished floors
Products that are insecurely positioned
Look for any video cameras in the area that may have captured the accident. If the video captured your fall, this will be invaluable evidence in building your case.
Often, it may be more than a year before a case is resolved, so pictures, video and other visual evidence can help show the dangerous conditions of the property and the extent of your injuries.
4. Don't Talk to Others
While writing down your memory of events can help capture details of the accident while your memory is fresh, your personal injury lawyer may advise against talking to others about the accident. This may include talking to friends, family members or coworkers about the accident and any pending legal action.
Similarly, when talking to insurance adjusters, you must be careful about what you tell them, as they will use anything they can to attempt to minimize your claim. Avoid giving a recorded statement unless your attorney advises you to do so. our lawyers can handle the insurance company for you and help prepare a carefully crafted personal statement if required.
Talk to a Skilled Florida Slip and Fall Attorney
Following these important steps after a slip and fall accident can help protect your claim and the evidence that will be valuable in helping you obtain compensation for your injury.
The slip and fall attorneys at Gordon & Partners have helped injured victims recover after being hurt on another's property. We can review the circumstances of your fall and help you gather evidence to determine if you have a viable claim.
Because we work on a contingency fee basis, we do not charge any upfront fees, and you only have to pay us if we successfully recover compensation for your claim.
Call 1 (855) 722-2552 to get started with a free consultation.