A traumatic brain injury (TBI) has the potential to dramatically alter your life for the worse. This type of injury is caused by forceful contact with the head that disturbs the brain's normal function.
The amount of damage a victim suffers hinges on the force of the blow, the circumstances of the situation and other factors. Even something as simple as a minor fender bender can cause a TBI.
If you suspect you have suffered a TBI, you should seek immediate medical attention. Then, contact an experienced West Palm Beach brain injury lawyer for a free consultation to find out if you are entitled to compensation for your medical bills, lost time at work, and pain and suffering. We work on a contingency fee basis, which means you will not be charged legal fees unless you recover compensation.
TBI Statistics
TBIs are one of the leading causes of death and disability. The Centers for Disease Control and Prevention (CDC) reports that TBIs play a part in nearly one-third of all injury deaths.
The CDC has determined that every day, more than 150 people in the United States die from a personal injury that includes a TBI.
In 2013, TBIs contributed to:
2.5 million emergency department visits
50,000 deaths
282,000 hospitalizations
Causes of TBI
Based on data from the CDC, some of the leading causes of TBI include:
Falls: Falling is the top cause of TBI, accounting for 47 percent of all TBI-related emergency room visits, hospitalizations and deaths. The oldest (79 percent) and youngest (54 percent) are most affected by falls.
Struck by or against an object: About 15 percent of all TBI-related hospitalizations, emergency department visits and deaths resulted from being struck by or against an object. This also accounted for 22 percent of TBI injuries to children under the age of 15.
Car Accidents: Motor vehicle accidents were the third most common cause of TBI hospitalizations and deaths across all age groups, accounting for about 14 percent of all TBIs.
Intentional self-harm: About 33 percent of TBI-related deaths are caused by intentional self-harm.
Violence: A number of TBIs result from violence. Examples of such violence include domestic incidents, violent shaking and gunshot wounds.
Sports and recreation: Approximately 329,290 children age 19 or younger were treated in emergency departments for TBIs or concussions caused by sports or other recreational activities in 2012.
Explosive blasts and combat injuries. Explosive blasts are a common cause of TBI among those who serve in the military. Other combat injuries such as a penetrating wound or severe blow to the head with shrapnel, debris or other objects can also case a TBI.
Types of TBI
There are numerous types of TBI.
Concussion
Concussions are the most publicized variety. Concussions result from direct blows to the head. Anything from a forceful shaking of the head to a gunshot wound or whiplash can cause a concussion.
It occurs when the brain endures trauma stemming from a rapid movement change or impact. Oftentimes, the blood vessels within the brain stretch during a concussion. However, a concussion might not show up on a CAT Scan or other diagnostic imaging test.
A concussion has the potential to cause a diffuse axonal injury that leads to temporary or permanent damage. It can take upwards of several months for a concussion to heal.
Anoxic Brain Injury
This brain injury is the result of a brain that does not receive enough oxygen. Cells within the brain require oxygen to live and function as designed.
Diffuse Axonal Injury
A diffuse axonal injury is caused by a considerable rotation or shaking of the head. Even rotational forces like those that occur during a car accident can cause this type of injury.
The idle brain does not move while the skull does. As a result, brain structures tear. Nerve tissues within the brain also tear quite extensively. This can spur the release of brain chemicals and result in even more injuries.
The tearing of nerve tissue in a diffuse axonal injury prevents the brain from communicating and processing chemicals like it did before the TBI. Such a disturbance can lead to permanent or temporary brain damage including a coma or death.
Shaken Baby Syndrome
This is a malicious criminal act that results in a TBI. It occurs when someone forcefully shakes a baby or child, creating a whiplash-like motion that injures the brain. The blood vessels between the child's skull and brain tear and bleed. The resulting blood compresses brain tissue and the brain swells. The end result is significant damage to brain cells that can lead to seizures, coma, lasting disability or death.
Contusion
A contusion is bleeding on the brain. It results from a direct impact to the head.
Hypoxic Brain Injury
This injury occurs when the brain is provided with insufficient oxygen. This causes a considerable reduction in blood flow or insufficient blood pressure.
Coup-Contrecoup Injury
This injury is a contusion at the impact site and along the opposite side of the brain. It occurs when a force impacting the head causes a contusion and moves the brain to the point that it slams against the skull.
Penetrating Injury
This brain injury occurs when a sharp object forces bone, fragments, skin or hair into the brain. These objects enter the skull where they ricochet or reach the brain.
Locked in Syndrome
This is a neurological condition in which an individual cannot move any portion of his or her body but the eyes.
Second Impact Syndrome
This injury occurs when an individual suffers a second traumatic brain injury prior to the healing of the symptoms of the initial brain injury. The common results are extensive damage and brain swelling. Long-term effects of successive brain injuries include muscle spasms, hallucinations, rapidly altering emotions and difficulties with learning or thinking. Death can also occur.
TBI Side Effects
An individual who suffers a TBI will likely be saddled by side effects. These effects can last a couple days or the remainder of the person's life. Side effects of TBIs include but are not limited to the following:
Emotional problems such as depression
Changes in personality
Sensitivity to noise or light
Impaired memory
Impaired cognitive function
Amnesia
Poor balance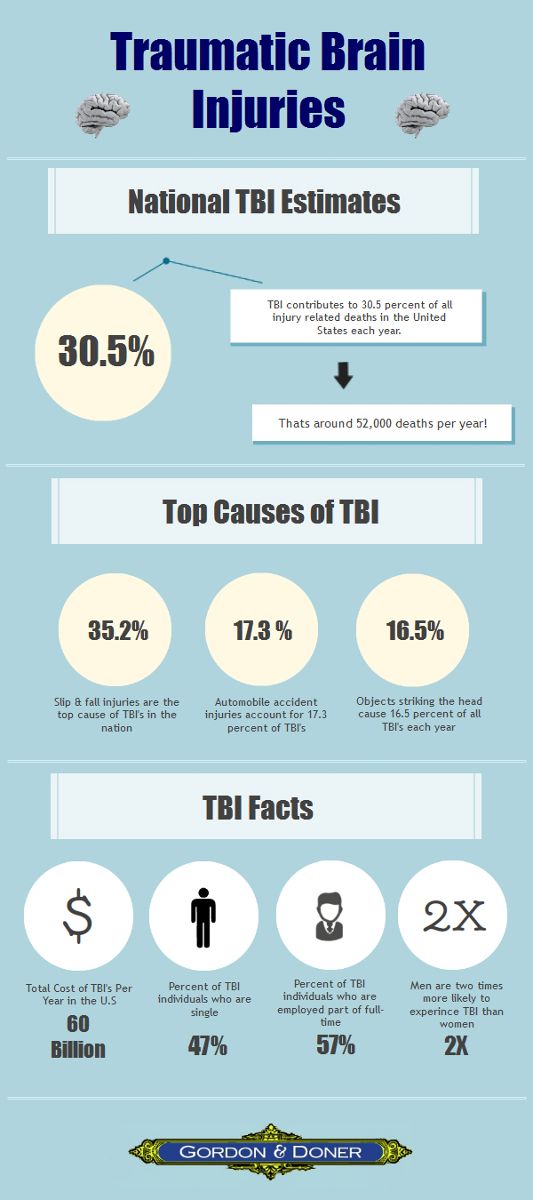 Contact a Brain Injury Lawyer
Brain injuries have the potential to significantly reduce a person's quality of life and can even lead to death. If you or anyone you know or love has suffered such an injury that was caused by another's actions, contact our brain injury lawyers for assistance.
our legal team will fight for justice so you can focus on recovering from your TBI. We will handle everything from court hearings to the filing of legal paperwork, gathering evidence, negotiations with opposing counsel and advocating on your behalf in a court of law. Contact us today to schedule a free, no-obligation consultation.
Call 1 (855) 722-2552 or complete a Free Case Evaluation Form.