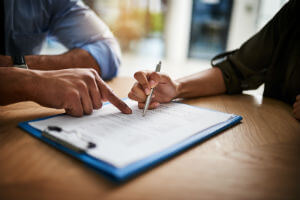 Insurance companies' primary goal is to save themselves money. To do so, they attempt to pay less for claims. Insurance adjusters may use certain strategies to lower the settlement offer made to you, even when your claim may be worth more.
If you have been injured in an accident, we recommend that you contact our personal injury attorneys in West Palm Beach for help with your claim. We can discuss these practices in greater detail so you are aware of what to look out for. Schedule a free, no obligation consultation with our legal team today.
Offer a Quick Settlement
Insurance adjusters often try to offer a settlement very quickly after an accident has taken place. This is done for a few reasons:
To catch you off-guard after a traumatic event where you may not be thinking clearly or take the time to be thorough.
To settle before you know the full extent of the injuries you have suffered or have determined if future treatment will be necessary.
To get you to accept a settlement before you have had the chance to hire a lawyer and learn the true value of your claim.
The at-fault party's insurance company may contact you the same day of an accident or in the few days following and act sympathetic towards you. Unfortunately, being nice is just a tactic used to get information from the victim. It is in your best interest to avoid engaging with the insurance company right after the accident.
Delay Processing Your Claim
On top of the stress and difficulties that come with recovering from a serious injury, there is also the financial burden of medical bills, time off work and repairing your vehicle. This puts victims in a vulnerable position, which insurance companies use to their advantage.
Insurers may delay processing your claim to get you to a point of desperation, where you need money to settle your affairs. These delays add stress and can make you want to give up pursuing your claim. After they have made you wait, the insurance company then offers a low-ball settlement because they think they have pushed you to the point where you need the money and will settle for anything.
Request a Recorded Statement
Insurance adjusters often ask victims to make recorded statements to get their versions of events or learn about their injuries. While you may think this is reasonable to ask, you should know that your statement can be used against you to help the insurance company pay you less.
If asked to provide a recorded statement, politely decline to do so. We recommend that you do not give a recorded or written statement until you consult a lawyer.
Ask to Sign a Medical Authorization Form
You may be asked to sign a medical authorization form and be told it is so the insurance company can access your medical bills so payment can be made. Unfortunately, doing so can provide the insurance company with your complete medical records to use against you in attempts to lower your settlement.
With a signed medical authorization form, insurance companies can get ahold of all medical records from all providers you have seen in the past. They will look for evidence of past injuries, pain and more, which will be used to deny your current injuries were a result of the accident. Do not sign a medical authorization form unless your attorney instructs you to do so.
Misrepresent or Alter Your Policy
Insurance adjusters may attempt to say only a certain amount is available for paying your claim, when this is not the actual amount available through policy coverage. Do not accept this information from the insurance company. Instead, have your attorney review the insurance policies to determine what the actual policy limits are and any issues that may affect coverage.
Say You Do Not Need Legal Representation
Insurance companies want you to believe they are on your side, even though they are not. The adjuster may tell you not to worry about hiring a lawyer, because he or she is protecting their own best interests.
Seeking legal representation can help ensure your rights are being protected. Personal injury attorneys are familiar with insurance company tactics and know how to achieve fair settlements.
Seek the Help of an Experienced Attorney
Throughout the claims process, you need a legal advocate on your side who can defend you against these practices. Our experienced team of attorneys at Gordon & Partners are ready to review your situation and determine your legal options through a free consultation. If we represent you, we can communicate with the insurance companies on your behalf to pursue fair compensation. There are no upfront fees for our services unless we recover compensation.
Call 1 (855) 722-2552 or complete our Free Case Evaluation form now.