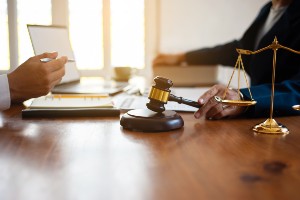 In a personal injury case, the burden of proof is on you to prove that the other party's negligent actions caused the accident and resulted in your injuries. Determining fault in these cases is often challenging, but sometimes a case may require outside input to help determine liability.
An expert witness can be a valuable asset to you when important facts and issues are being disputed. He or she can help simplify complex information. Below, we further discuss the importance of expert witnesses in personal injury cases.
Reach out to our legal team at Gordon and Partners for a free consultation. If you have been involved in an accident, we are ready to help you obtain maximum compensation for your injuries and damages.
What is an Expert Witness?
An expert witness is someone with the right to testify at trial because he or she has special knowledge, training or experience in the field that is relevant to your case. Expert witnesses may be called to provide important information with regard to the nature of the claim. They can be used to support certain facts of your case. This includes offering insight into how the accident occurred and how it resulted in injuries.
Expert witnesses can also be used to refute inaccurate testimony provided by the other party. The testimony they provide is often key in the determination of a case and your ability to obtain a recovery.
Expert Witness Versus Lay Witness
A lay witness is typically someone who is called to testify about what he or she saw at the accident scene. For instance, a lay witness could be a pedestrian or another driver that saw your crash.
Lay witnesses under Florida law do not need to have special knowledge, training or skills to testify in court. Their testimony is based on opinions or interpretations and not on facts. Anything that is said before the judge or jury is limited to their own perceptions and personal knowledge.
An expert witness is a trained specialist with specific knowledge and a focused skillset. He or she may not have seen the accident firsthand but can help make sense of factual evidence.
Expert witnesses can appear and testify in court on your behalf and/or simply act as a consultant in your case. They can help explain complex matters more clearly to your attorney to help him or her understand how to approach a case. Anything said between them can be kept confidential.
Types of Expert Witnesses in Injury Cases
Some types of expert witnesses often used in personal injury cases include:
Medical experts – These experts can help explain the extent and specific type of injury suffered, how the injury is linked to the accident and how the injury affects the victim's life.
Accident reconstruction experts – They can recreate the crash and use their expertise to explain the sequence of events that led up to the accident and who was at fault.
Mental health experts – These experts can help explain how the accident has impacted the victim's mental and emotional state. Their testimony could be used to help support claims for compensation related to pain and suffering or loss of enjoyment of life.
Economic experts – They can testify about the economic impact of an injury based on the victim's loss of income and loss of future earning capabilities from an inability to work.
Manufacturing experts – These experts can help explain how a particular part or product was defective and how it led to an injury.
When Are Witness Experts Necessary?
Having an expert witness could be vital to the potential outcome of your case. During settlement negotiations, his or her credibility could persuade the other party and his or her legal defense to reach a favorable agreement. At trial, an expert witness can also offer valuable insight and clarify to better educate a judge or a jury about certain disputed issues in the case.
Find Out if You Have a Case Today
If you have been injured in an accident due to negligence, our firm is here to help you secure fair and full compensation. A personal injury lawyer in West Palm Beach is ready to determine if you have a valid case and discuss whether an expert witness could be beneficial to you in a free consultation.
There are no upfront fees to retain our services. We only get paid if we obtain compensation on your behalf through a settlement or verdict.