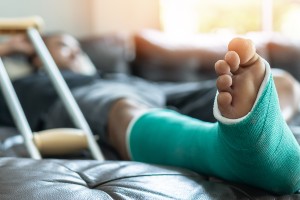 Lawsuits can take anywhere from months to years to resolve. This is why many personal injury cases are settled before a case even heads to court.
However, it may still take some time to settle a personal injury case because your lawyer will need to wait until the healing process has ended. If you want to obtain fair compensation for your injuries and damages, this means waiting until you reach maximum medical improvement (MMI).
Gordon & Partners has experience since 1993 advocating for injured victims' rights and pursuing the maximum compensation possible on their behalf. Reach out today to schedule a free legal consultation. You are not obligated after this initial meeting to take legal action with our firm.
Reasons to Seek Medical Treatment
After being injured in an accident, you may be feeling overwhelmed and tempted to forgo seeking medical treatment, especially if you believe your injuries are minor or will heal on their own.
The most important thing you can do is to see a doctor as quickly as possible to protect your best interest. Doing so will create an official medical record of your injuries. It will show the extent and severity of your injury, the treatment plan prescribed and connect your injuries to the accident.
Without such documentation to serve as evidence and proof of your injuries, being able to pursue a personal injury lawsuit may be challenging. The other party involved will likely attempt to argue that your injuries are not as serious as you say or that something other than the accident caused them.
Following your doctor's recommendations for treating your injury is just as essential as obtaining initial medical care. This means taking your prescribed medications, attending follow-up appointments, going to physical therapy, taking time off work to recover, etc.
Reaching Maximum Medical Improvement
The goal of medical treatment is to improve your condition continually until you have healed. Ideally this would mean being made whole again or returning to the state you were in prior to the accident.
However, being able to reach maximum medical improvement will depend on your circumstances. The more serious your injury, the longer this process will take. In accidents that result in catastrophic injuries, an injured victim may not ever make a full recovery or be made whole again.
Most doctors are unable to provide any opinions regarding a permanent injury until MMI has been reached because the victim may continue to improve or get worse during the course of treatment.
Waiting to Accept a Settlement Offer
It is best to wait until you reach MMI before accepting a settlement that may not reflect the true value of the case. Aside from your lawyer assessing your past and current medical expenses and lost wages, you may require more medical care in the future that must be factored in.
Once a settlement has been reached, you will be asked to sign a written agreement that releases the other party from any further liability regarding the accident. Should your injuries be worse than you imagined or become worse over time, causing you unexpected expenses, you will be unable to seek more compensation after you agreed to the settlement.
Future Medical Care May Be Needed
After your condition has stabilized, your doctor may require future medical care, such as:
Additional surgeries
Follow-up appointments
Visiting a specialist (i.e. chiropractor)
Laboratory tests
Physical therapy
Mental health counseling
Prescription medication
Assistive devices (i.e. crutches, prosthetics, wheelchairs)
Home health care aides
A personal injury lawyer from our firm is prepared to help determine the full cost of any continued medical treatment you may need. This could include retaining the services of a medical expert who will be able to explain why further treatment is necessary and how much it may cost.
Learn How We May Be Able to Help
Let one of our lawyers at Gordon & Partners guide you through the legal process and gather the medical evidence needed to build a strong case for compensation. There is no risk in calling us to find out more about your rights and potential legal options during a free, no-obligation consultation.
We work on a contingency fee basis, so there are no upfront fees to take on a case and no fees while we work on a case. You pay us nothing unless we help you obtain compensation in a settlement or verdict.