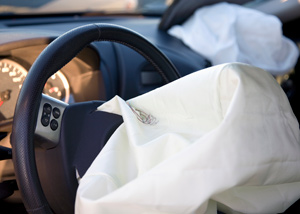 The National Highway Traffic Safety Administration (NHTSA) released a statement online on Oct. 20, 2014, urging owners of certain Toyota, Honda, Mazda, BMW, Nissan and General Motors vehicles to act immediately on recall notices to replace defective Takata airbags.
Approximately 12 million vehicles have been recalled worldwide for the faulty airbags amid concern that the defective airbag inflators can injure and even kill the driver or passengers. The inflator mechanisms in the airbags can rupture, causing metal fragments to fly out when the bags deploy.
The NHTSA has been investigating the problem since June and has noted at least six instances in which the inflators ruptured, which led to three injuries. The defect has also allegedly caused the deaths of two people.
The plea from the NHTSA comes less than one month after a woman involved in an auto accident in Orlando suffered severe neck wounds that could have been caused by the metal fragments flying out of her vehicle's airbags. In another instance, a teen driver in Oklahoma City died after the airbag in her Honda Accord inflated and sent shards of metal into her neck.
Toyota issued another recall covering 247,000 older model vehicles, including the Corolla, Matrix, Sequoia, Tundra and Lexus SC due to the Takata airbags yesterday. Many of the vehicles recalled are in areas with high absolute humidity, including South Florida.
If youre unsure about whether or not your car has been recalled due to these dangerous airbags, visit the NHTSA website and search by your vehicles identification number (VIN).
Have you or someone you love been injured due to a defective product? Did you know that victims of dangerous products may be entitled to compensation for their suffering? At Gordon & Partners, we are committed to fighting for the rights of the injured.
Our experienced West Palm Beach personal injury attorneys can help you determine what your legal rights are and if you are eligible to file a lawsuit.
Call us today at 1 (855) 722-2552 or fill out our online contact form for a free case review.