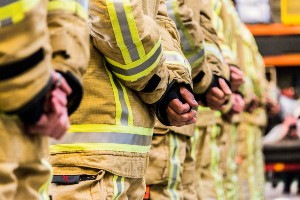 Early Thursday a portion of a 12-story condo building in Surfside, Florida collapsed. An investigation into the cause of the collapse is underway.
Multiple people have been killed and more than 150 are reported missing. Firefighters and first responders are conducting a massive search-and-rescue effort for survivors. Federal agencies are assisting state and local response efforts.
Partial Collapse of Champlain Towers South
Champlain Towers South, an oceanfront condominium building just north of Miami Beach partially collapsed at around 1:30 a.m. on Thursday. The collapse destroyed 55 out of 136 units in the building in less than 30 seconds, leaving behind a large cloud of grey dust.
By 2 a.m., over 80 units from Miami-Dade Fire Rescue arrived at the scene. Nearby condominiums and hotels have since been evacuated. Firefighters continue to search for survivors as they sort through piles of concrete, steel and other debris. A special tactical unit has also been sent to aid in search efforts.
Champlain Towers Was Gradually Sinking for Years
Authorities still do not know the cause of the collapse at Champlain Towers South. According to a study by Florida International University, the building has been sinking gradually for decades. The data revealed it was sinking at a rate of about two millimeters per year from 1993 to 1999 – the building was constructed in 1981.
The sinking was unique to where the condominium was located, but not unique to other nearby buildings. Many buildings in Miami Beach are built on reclaimed wetland and moving at increased rates.
According to Shimon Wdowinski, a professor with Florida International University's Institute of Environment, the sinking in and of itself is unlikely to have caused the collapse, but it could certainly be a contributing factor. Any time a building and the ground underneath move, it is a cause for concern.
A building collapse could be the result of several different factors:
Neglect and poor building maintenance
Faulty or low-quality construction materials
Engineering or structural building flaws
Failing to abide by building code standards
Untreated water or flood damage
Defects in the foundation and/or design
Engineering Inspections and Repairs Were Underway
Before the collapse, the building had been undergoing engineering inspections for several months to prepare for its 40-year recertification. This process is routine and required for older structures.
The condominium was also set for repairs. It was about to begin corrosion repairs and had just undergone work on its concrete roof. Champlain Towers South passed its roof inspection Wednesday.
Assistance for Victims and Family Members
The collapse has left hundreds in need of support. Local organizations have already stepped up to help those impacted, including:
Surfside Hardship Fund – The Coral Gables Community Foundation, the Miami Foundation, and the Key Biscayne Community Foundation have set up this fund to help victims of the collapse.
Greater Miami Jewish Federation – The emergency fund is geared toward helping provide victims with financial assistance, support and crisis counseling.
The Shul – They are accepting monetary donations and the donations of items to help those affected by the collapse, such as blankets, pillows, sweatshirts and more.
Miami Heat Charitable Fund – The Miami Heat is raising funds with Direct Relief, a non-profit charitable organization, to help survivors and first responders.
GoFundMe Campaigns – A verified fundraisers page has been set up to help with the collapse.
Gordon & Partners Are Here to Help
As search-and-rescue efforts continue, insurance companies may be contacting survivors as well as the families of victims and those missing in the building collapse.
Survivors and family members can often benefit from working with an experienced lawyer who can help deal with insurance companies and other parties on their behalf.
At Gordon & Partners, our personal injury and wrongful death lawyers are here to offer legal help. Our firm has advocated for many injury victims and their loved ones since 1993, seeking maximum compensation on their behalf.
An initial consultation with a member of our legal team is free and confidential. There is no cost to talk to a lawyer and no upfront fees to retain our services.
We are available 24/7 to discuss your situation. Call 1 (855) 722-2552.