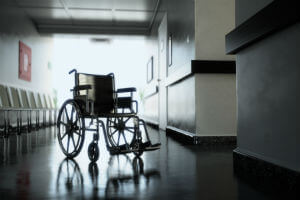 Shortly after Hurricane Irma passed through South Florida, eight nursing home residents died and another 141 were evacuated from The Rehabilitation Center at Hollywood Hills after a prolonged period without air conditioning in the facility leading to sweltering, oppressive conditions.
Initial investigations determined that the facility's air conditioning system was not fully functional, despite the facility having electricity. Reports indicate that a tree fell and hit the transformer that powers the cooling system. Temperatures in the area reached 92 degrees in the days the facility was without air conditioning.
However, despite the scorching heat in the facility, no residents were initially evacuated as staff attempted to cool temperatures in the facility with fans and mobile cooling units.
It was not until 911 was called several times for multiple nursing home residents suffering from severe medical conditions from the heat that the full extent of the problem became apparent.
If someone you love has been harmed by a negligent nursing home facility that failed to provide a safe living environment, contact our Plantation nursing home abuse attorneys to ensure your loved one's rights are protected.
A Failure to Ensure the Safety of Residents
Like many in South Florida, The Rehabilitation Center lost power sometime Sunday as a result of the storms associated with Hurricane Irma.
According to a statement issued by the facility, it reported a power outage to the Broward County Emergency Operations Center Tuesday morning. A "mission critical" request for power was sent to Florida Power & Light, however, the facility did not request assistance for any medical needs or emergencies.
By 3 a.m. Wednesday, a patient suffering from cardiac arrest was transported via emergency responders to Memorial Regional Hospital.
About an hour later, another 911 call came through for a patient suffering from breathing problems who needed to be transported to the hospital.
Shortly thereafter, another 911 call came with a request for transportation for another resident.
At this point, the fire department sent additional crews to the facility to further investigate the situation. When checking the nursing home room-by-room, three additional residents were found dead on the second floor of the home and several others were considered critical with life-threatening conditions.
At 9:15 a.m. Wednesday, all residents of the facility were evacuated from the nursing home and were evaluated by paramedics and hospital staff.
Despite rushing to help those in dire need, four additional patients died at the hospital, and approximately 35 residents were admitted into the Memorial Healthcare System.
It was also later discovered that another resident had died early that morning, but the death was never reported because the individual was taken directly to a funeral home.
Determining Liability for the Incident
Many questions remain about how this happened and why the situation was allowed to go on for so long that eight people died. Those involved have attempted to place blame with local government officials, the power company, and The Rehabilitation Center.
In a search for answers, the Hollywood Police Department and the State Attorney General's office have opened criminal investigations into the deaths. The Florida Agency for Health Care Administration is also investigating, and at Governor Rick Scott's request, has placed a moratorium on the facility to prevent it from accepting any new patients.
Governor Scott has stated that The Rehabilitation Center was responsible for the safety of its residents and that it had been advised to call 911 if any patient's health was at risk. He has vowed to find answers and hold the liable party fully accountable for the harm that has been done to these elderly individuals.
Nursing Home Responsibilities
Nursing homes are legally obligated to ensure the safety of their residents, including making sure they receive the medical care and accommodations they need.
Although there is no law in Florida specifically requiring nursing homes to have backup generators in cases of emergencies, each assisted living facility must prepare a written comprehensive emergency management plan that includes providing emergency power, food, water, and staffing for the facility for 72 hours, according to Florida Administrative Code 58A-5.026(b).
A new federal law set to go into effect in November will also require that a facility's alternative source of energy be capable of maintaining safe temperatures in the home.
A Facility with a Troubled Past
The Rehabilitation Center has a history of safety violations, complaints, and citations. In both 2014 and 2016 the facility was cited for failing to follow generator regulations, and a health inspection report from March raised issues regarding resident cleanliness, food service and housekeeping. The facility is currently rated as a two-star facility by the Centers for Medicare and Medicaid Services.
Additionally, the owner of the facility was among those involved in a $15.4 million settlement in 2006 involving federal and state claims that he and Larkin Community were involved in a kickback scheme, in which the hospital paid doctors in exchange for admitting patients.
Get Help from a Trusted Attorney
Although The Rehabilitation Center is not the only nursing home facility in Florida facing power outages after Hurricane Irma, it is so far the only facility in which residents have become critically ill or died as a result.
If someone you love has been injured or died because a nursing home facility failed to ensure his or her safety, do not hesitate to contact our Plantation nursing home abuse attorneys. You may have legal options for obtaining the justice and compensation your loved one deserves.
Contact us today for a free and confidential consultation to determine if you have a legal case. We do not charge upfront fees and only require payment if we recover compensation for you.
Call 1 (855) 722-2552 or complete a Free Case Evaluation form.