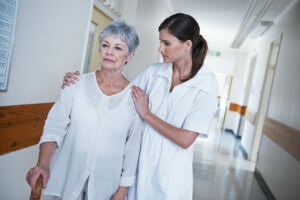 When patients are left to wander throughout a nursing home on their own, the risk of suffering a serious injury is increased. This is especially true if the entrances and exits to the facility and other restricted areas are not properly secured to prevent entry and exit.
If your loved one was injured after wandering in a nursing home facility, it could be a sign of negligent care. Below, our Nursing Home Abuse attorneys outline some of the reasons why residents wander and the type of care residents who are prone to wandering should receive.
Why Does Wandering Occur?
Wandering is most common among individuals with Alzheimer's Disease, dementia, and other conditions with cognitive or memory impairment. A 2006 study found that 20 percent of dementia patients will experience a wandering incident once or more.
Some of the most common situations that lead to wandering include:
Residents who are new to a facility and are experiencing an unfamiliar environment, which can cause the resident to wander in search of a familiar place.
Altering a resident's routine or medication can also lead to wandering.
A resident may wander if he or she is in need, such as when he or she is hungry, thirsty or needing to use the restroom.
There are various types of wandering that may occur in a nursing home:
Agitated Purposeful Wandering
When a resident is agitated, he or she may wander and become upset. The reason for wandering could be imagined or real, creating a disruptive state emotionally. Patients may be aggressive or combative. If the cause of the episode is not corrected, wandering incidents may reoccur.
Elopement
Elopement occurs when a resident exits the nursing home. Elopement is very dangerous, as the patient could be injured severely or fatally. Patients could be hit by a car, fall and be unable to get up, or may succumb to severe weather.
Environmentally Cued Wandering
The nursing home environment can lend itself to wandering. A hallway, an open door – these environmental factors can cause wandering to occur. Staff should be aware of environmental cues that could tempt wandering.
Fantasy
When a nursing home patient is not aware of his or her real surroundings, her or she could wander through an environment completely imagined. The environment may hold elements from the past, such as a home. Patients may find it difficult to come to terms with the fact they are in a nursing home, and not their imagined environment.
Recreational
Patients may wander simply seeking recreation and exercise. Staff can easily alter this type of wandering by providing more supervised opportunities for exercise.
Wandering Patients Require Attentive Care
Nursing homes have large populations of residents who suffer from conditions that are prone to wandering and elopement. For this reason, they must take extra precautions to ensure these residents' safety.
To curb incidents of wandering, nursing home staff should assess wandering risk in patients. Wandering typically begins during a patient's first few days at a facility. Staff can cut down these incidents by securing doors outside of the patient's safety area. Taking measures to cut wandering keeps patients safe and limits injury risk.
Some additional measures that can be taken include:
Identifying patients most at risk for wandering and providing more attentive care to those residents
Placing alarms on doors
Making sure there is adequate staff to meet the needs of all residents
Planning ahead for specific risks
Patients should have freedom while residing in a nursing home. Staff members should take measures to provide needed freedoms while balancing safety.
Nursing homes have an obligation to ensure the safety of residents. If they fail in this duty, they can be held liable for neglect and any harm that comes to the patient.
If your loved one has been harmed while living in a nursing home, Gordon & Partners will work to hold negligent caretakers accountable for their actions. Let us help your family secure the justice your loved one deserves.
Call 1 (855) 722-2552 or complete our Free Case Evaluation form for a free, no-obligation consultation.