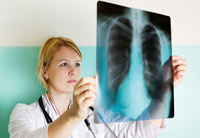 New data has revealed that Palm Beach County ranks high for deaths related to asbestos exposure; an average of 81 people have died each year from asbestos exposure since 1999.
According to Environmental Working Groups Action Fund, more than 14,000 people in Florida died from asbestos exposure between 1999 and 2013. Palm Beach County's rate of deaths was 6.4 per 100,000 which is above the state and national rates.
Have you or someone you love fallen ill after being exposed to asbestos? You may be entitled to compensation for your medical expenses and pain and suffering.
For a free claim review, call 1 (855) 722-2552 or fill out a case evaluation form.
Overall, Palm Beach County had the highest rate of deaths. Other counties with a high rate of deaths include Pinellas County, Broward County and Miami-Dade County.
Asbestosis, mesothelioma and non-mesothelioma lung cancer attributed to all the deaths in the state.
In 2000, asbestos was found in crayons. Seven years later, a children's crime scene kit was found to have asbestos. The product is still legal and widely used.
Specifically, certain occupations have been linked to exposure to asbestos and an increased risk of developing mesothelioma.
Some signs of mesothelioma and other health problems associated with asbestos exposure include:
Shortness of breath
Chest pain
Chronic hoarseness
Difficulty swallowing
There are specialty tests that anyone exposed to asbestos can undergo to determine if they may be suffering from mesothelioma or another illness. Unfortunately, it can take decades for victims to experience signs or symptoms of asbestos-related illness.
If you or someone you love has suffered a serious illness after being exposed to asbestos, you may be entitled to file a personal injury claim. Our experienced mesothelioma and asbestos exposure lawyers can help you determine your legal options.
Call us now at 1 (855) 722-2552 for a free consultation.