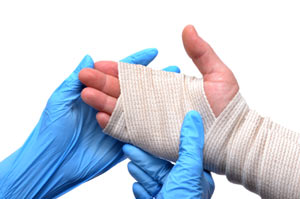 Dogs offer companionship and loyalty, and to some owners they also provide protection. While man's best friend has proven to be an affectionate and, in some cases, therapeutic partner there is always the risk that it will bite a friend, child or stranger without much warning.
The Center for Disease Control and Prevention (CDC) reports that there are over 75 million dogs living in the US currently, and that each year approximately 4.5 million dog bites occur. Additionally, 30,000 dog bite victims require and undergo reconstructive surgery related to their attack. The rounded teeth that dogs have can exert an extreme amount of pressure and force on human flesh, tendon and bone.
The tiny and delicate nerves, ligaments and blood vessels in our limbs are at the mercy of the dog when it attacks. Dog bites can be severe, life threatening and even fatal, and the lawyers at Gordon & Partners recognize the pain, confusion and suffering that victims of dog bites experience.
Have you or a loved one been the victim of a dog bite? If so, you may be entitled to compensation because of the medical bills you incurred as a result of the attack. Additionally, the mental and emotional trauma you experienced can linger for years and affect other areas of your life, which is why damages are awarded to compensate for this aspect of the attack as well.
To find out how we can help, simply fill out the "Free Case Evaluation" form located on the right side of this page. It is 100% FREE, without any obligation to proceed and your information will always remain confidential.
Treating a Dog Bite
The minutes following a dog attack are crucial in determining the level of threat it will pose to your health. The treatment issues that need to be addressed include damage to the skin, damage to any underlying nerves or tissue, and infection.
These steps should be taken after a dog bite takes place:
Assess the level of damage. If the bite punctures, cuts or in any way lacerates the skin, call a doctor immediately. Regardless, it is wise to seek medical attention following an incident with a dog as they can carry rabies, which has serious implications in a person's health if it is contracted.
Control the bleeding. Using a clean towel or washcloth apply gentle pressure to the wound to eliminate loss of blood.
Keep the area elevated to discourage loss of blood.
Wash gently with soap and water.
Apply a sterile bandage to the wound to keep it clean of germs.
Use an antibiotic ointment to keep the wound free of germs and antibodies.
As soon as possible you should get a physician's opinion and follow their recommended course of treatment. If may include a tetanus shot if the doctor suspects the animal was rabid. Additionally, they will want to conduct a full check of the injury to make sure it did not do any damage to underlying muscles, tendons, ligaments, nerves or bones.
The doctor may have questions relating to the health of the dog bite victim, such as whether they have diabetes, liver disease or any other illness that suppresses the immune system, as individuals with those conditions may be at a greater risk of infection.
The physician will likely want to know if you know the owner of the dog, which will help in gathering valuable information, such as whether the dog was up to date on vaccinations, if there is a history of attacking and more details of the incident. These facts will also help to substantiate a dog bite claim, if the owner was negligent or reckless with the dog, causing the victim's injury.
Contact our Palm Beach Dog Bite Attorneys Today
At Gordon & Partners we understand how frightening it can be to deal with a vicious dog bite no matter if you or a loved one was attacked. We are dedicated to helping personal injury victims fight for their right to fair and just compensation, including those who have suffered from serious dog bites.
With more than 150 years of combined legal experience, our Palm Beach dog bite attorneys are ready to help guide you through the entire litigation process. We have several offices located throughout the tri-county area and are proud to serve the following areas:
Pembroke Pines
Ft. Lauderdale
Delray Beach
Jupiter
Palm Beach Gardens
Stuart
…and many more surrounding neighborhoods.
To get connected with one of our knowledgeable attorneys, contact us at 1 (855) 722-2552 for a free initial case consultation.
If you prefer to contact us online, fill out the 'FREE CASE REVIEW' form located at the top right hand corner of this page – it's free to submit and completely confidential.