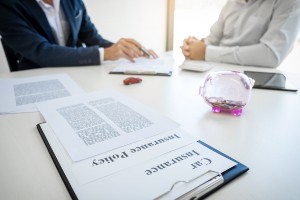 Car insurance offers protection in the event of an accident, but it may not cover everything. That is why it is important to know your coverage limits to avoid being personally liable for damages. While every insurance company is different, there are some common car insurance exclusions to be familiar with.
If you or someone you care about has been in a crash, Gordon & Partners is prepared to review your situation in a free initial legal consultation. There is no risk in calling us and no obligation to hire our firm. We work on a contingency basis, so we charge no fees unless we help you obtain a recovery.
Find out if you have a case. Ph: 1 (855) 722-2552
Using Your Car for Business Purposes
If you deliver food for Uber Eats or Grub Hub, you will likely not be covered by your car insurance policy. This is because you are using your car for business purposes. You will need to purchase commercial vehicle coverage if you want to be covered in the event of an accident while making deliveries. Gaps in coverage could cause you to pay out of pocket for damages and other related expenses.
Certain Damage Done to Your Car
Your car insurance policy will not cover certain damages, even if you carry collision and comprehensive coverage. Some of these damages include, but are not limited to normal wear and tear, damage resulting from street racing, mechanical failures and any unauthorized modifications to your car.
Vandalism or Car Theft
Unless you have full coverage car insurance, vandalism or theft will not be covered. In Florida, you must have at least the minimum insurance coverage, which is $10,000 in personal injury protection (PIP) and $10,000 of property damage liability (PDL). This portion of your policy covers any damage you cause to others in an accident.
No Upfront Fees.
Ph: 1 (855) 722-2552
Florida drivers are not required to carry comprehensive coverage, but it is typically a requirement in order to lease or finance a vehicle. If your car gets vandalized or even stolen, comprehensive coverage could help pay for these expenses as long as the damage was not caused in a car accident.
Collision insurance, also optional, could help pay for repairs and replacement of your car in an accident.
No License/Car Not Registered
Without a valid driver's license, do not expect your car insurance policy to cover you for any incidents that may happen. This exclusion also applies if you failed to renew your license on time, are driving a car that you are not licensed to drive or are driving an unregistered car. It is important to make sure that your license and registration information is up-to-date and that necessary payments are being made.
Damage From Excluded Drivers
If someone borrows your car, your policy will likely cover another driver in the event of an accident, as long as they had your permission. However, if a driver is specifically excluded on your policy, insurance coverage will no longer apply.
Most car insurance providers will give you the option to restrict coverage to drivers above a certain minimum age. This minimum age limit is generally 25 years old. Excluding a driver on a policy can be a great way to cut down on premiums, but it can be costly if he or she gets behind the wheel of your car.
Set Up a Free Consultation Today
A West Palm Beach-based car accident lawyer from our firm is ready help you obtain the compensation you need to help cover medical bills, lost wages and other related expenses. To date, we have recovered millions of dollars on behalf of our clients.
An initial consultation is completely free and confidential. There is no risk in calling us to learn more about your rights and no obligation to retain our services after meeting with our firm. We only receive payment if we help you obtain compensation.
Gordon & Partners. Free Consultation. Ph: 1 (855) 722-2552