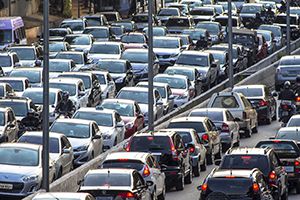 AAA predicts that 48.7 million Americans will travel for the upcoming Thanksgiving holiday. This number is roughly one million more than it was last year – a 1.9 percent increase. Each journey is expected to be more than 50 miles from home.
The travel company explains that the increase is likely due to the improvement in the economy in the past year as well as decreased gas prices. Driving is by far the most popular mode of transportation for those traveling for the holiday, Florida is also in the top ten Thanksgiving destinations.
Safety First This Thanksgiving
With so many people expected to be on the roads, especially in Florida, it is important that motorists take extra precautions to prepare for safe travel.
AAA forecasts that it will help more than 370,000 drivers in the coming week. Most of the problems will likely be due to dead batteries, lockouts and flat tires.
Drivers can avoid these common car problems by making sure to do a safety check before they hit the road. A quick inspection conducted by a reliable repair shop can go a long way to prevent common problems on road trips.
It is also important that drivers practice defensive driving and keep the following tips in mind.
Check the local weather and road conditions, and allow yourself plenty of time to drive and arrive safely.
Get enough rest before you hit the road to avoid driving drowsy. Plan to stop periodically for breaks if you are traveling long distances.
Never drink and drive.
Keep an eye out for local traffic laws and be sure to obey posted signs and speed limits.
Avoid cellphone use, eating or interacting with passengers. These distractions can be hazardous, especially with increased traffic.
If you are involved in an accident during the long holiday weekend, the car accident lawyers at Gordon & Donor are here help. Do not hesitate to call 1 (855) 722-2552 to schedule a free, no obligation consultation.
From everyone at Gordon & Donor – have a safe and happy Thanksgiving!